Principles of Engineering Geology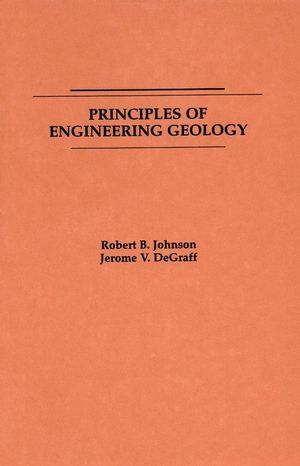 Principles of Engineering Geology
ISBN: 978-0-471-03436-0 August 1988 512 Pages
Description
Provides a comprehensive introduction of the application of geologic fundamentals to civil engineering. Explains the theory and applied aspects of engineering geology, and the impact geology has on civil engineering planning, design, construction, and monitoring. Offers expanded coverage of applied geophysical methods, investigation fundamentals, use of aggregate materials, site instrumentation, and remote sensing.
Table of contents
ENGINEERING GEOLOGY: AN OVERVIEW.

Geologic Fundamentals.

Mechanics Fundamentals.

Strain.

INVESTIGATION FUNDAMENTALS.

The Role of an Engineering Geologist.

Elements of an Investigation.

Types of Investigation.

ENGINEERING SOIL.

Describing Soil for Engineering Purposes.

The Engineering Properties of Soil.

Uses of Soil Science Classification.

ENGINEERING PROPERTIES OF ROCKS.

Intact Rock.

Rock Masses.

Engineering Classification of Rocks.

SUBSURFACE WATER.

Occurrence and Influence of Subsurface Water.

Engineering Significance.

Control of Subsurface Water.

INSTRUMENTATION.

Instrument Components.

Instrument Types and Applications.

Planning an Instrumentation Program.

EXPLORATION.

Maps.

Remote Sensing.

Subsurface Exploration.

CONSTRUCTION USES OF ROCKS.

Aggregates.

Riprap and Other Large Rock Materials.

ENGINEERING GEOLOGY AND EARTH PROCESSES.

Safety, Risk, and Geologic Forecasting.

Earthquake-Induced Processes.

Volcanic Processes.

Landslide Processes.

Subsidence.

Expansive Soils.

Shoreline Processes.

Appendix.