Principles of Food, Beverage, and Labor Cost Controls, 9th Edition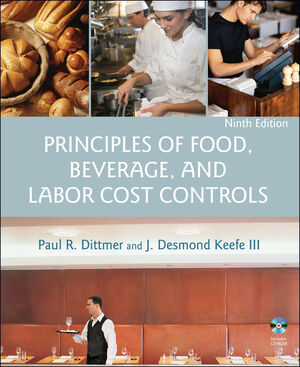 Principles of Food, Beverage, and Labor Cost Controls, 9th Edition
ISBN: 978-0-470-59797-2 April 2010 656 Pages
Description
Principles of Food, Beverage, and Labor Cost Controls, Ninth Edition has defined the cost control course for generations of students. This new edition continues the tradition of presenting comprehensive yet concise information on cost control that is updated to reflect today's technology driven environment Key terms, key concepts, review questions, and spreadsheet exercises reinforce and support readers' understanding. It also features increased discussion and examples of technology used in food and beverage operations, a running case study, and a separate chapter on menu analysis and engineering.
PREFACE IX
PART I INTRODUCTION TO FOOD, BEVERAGE, AND LABOR CONTROLS 1
CHAPTER 1 COST AND SALES CONCEPTS 3
INTRODUCTION 4
COST CONCEPTS 10
SALES CONCEPTS 16
THE COST-TO-SALES RATIO: COST PERCENT 22
CHAPTER ESSENTIALS 31
KEY TERMS IN THIS CHAPTER 32
QUESTIONS AND PROBLEMS 32
EXCEL EXERCISES 35
CHAPTER 2 THE CONTROL PROCESS 39
INTRODUCTION 40
CONTROL 40
THE CONTROL PROCESS 43
CONTROL SYSTEMS 60
COST–BENEFIT RATIO 64
CHAPTER ESSENTIALS 66
KEY TERMS IN THIS CHAPTER 66
QUESTIONS AND PROBLEMS 67
EXCEL EXERCISES 70
CHAPTER 3 COST/VOLUME/PROFIT RELATIONSHIPS 71
INTRODUCTION 72
THE COST/VOLUME/PROFIT EQUATION 75
VARIABLE RATE AND CONTRIBUTION RATE 78
BREAK-EVEN POINT 80
COST/VOLUME/PROFIT CALCULATIONS FOR THE GRANDVIEW BISTRO 80
COST CONTROL AND THE COST/VOLUME/PROFIT EQUATION 87
CHAPTER ESSENTIALS 91
KEY TERMS IN THIS CHAPTER 91
QUESTIONS AND PROBLEMS 91
EXCEL EXERCISES 94
PART II FOOD CONTROL 95
CHAPTER 4 FOOD PURCHASING AND RECEIVING CONTROL 97
INTRODUCTION 98
THE CONTROL PROCESS—PURCHASING AND RECEIVING 98
DEVELOPING STANDARDS AND STANDARD PROCEDURES FOR PURCHASING 101
STANDING ORDERS 123
RECEIVING CONTROLS 123
ESTABLISHING STANDARD PROCEDURES FOR RECEIVING 125
CHAPTER ESSENTIALS 133
KEY TERMS IN THIS CHAPTER 134
QUESTIONS AND PROBLEMS 134
EXCEL EXERCISES 136
WEB ADDRESSES 137
CHAPTER 5 FOOD STORING AND ISSUING CONTROL 139
INTRODUCTION 140
STORING CONTROL: ESTABLISHING STANDARDS AND STANDARD PROCEDURES FOR STORING 140
ISSUING CONTROL: ESTABLISHING STANDARDS AND STANDARD PROCEDURES FOR ISSUING 145
FOOD ANDBEVERAGE TRANSFERS 150
CHAPTER ESSENTIALS 156
KEY TERMS IN THIS CHAPTER 156
QUESTIONS AND PROBLEMS 156
EXCEL EXERCISES 162
WEB ADDRESS 162
CHAPTER 6 FOOD PRODUCTION CONTROL I: PORTIONS 163
INTRODUCTION 164
ESTABLISHING STANDARDS AND STANDARD PROCEDURES 164
CALCULATING STANDARD PORTION COSTS 170
ADVANTAGES AND DISADVANTAGES OF STANDARDIZED YIELD 190
USING YIELD PERCENTAGES 191
RECIPE SOFTWARE 192
CHAPTER ESSENTIALS 193
KEY TERMS IN THIS CHAPTER 193
QUESTIONS AND PROBLEMS 194
EXCEL EXERCISES 198
WEB ADDRESS 198
CHAPTER 7 FOOD PRODUCTION CONTROL II: QUANTITIES 199
INTRODUCTION 200
ESTABLISHING STANDARDS AND STANDARDPROCEDURES 200
DETERMINING PRODUCTION QUANTITIES 212
CONTROL OF PREPORTIONED ENTRÉES 221
A WORD OF CAUTION 223
CHAPTER ESSENTIALS 223
KEY TERMS IN THIS CHAPTER 224
QUESTIONS AND PROBLEMS 224
EXCEL EXERCISES 225
WEB ADDRESS 225
CHAPTER 8 MONITORING FOODSERVICE OPERATIONS I: MONTHLY INVENTORY AND MONTHLY FOOD COST 227
INTRODUCTION 228
MONTHLY INVENTORY 229
REPORTS TO MANAGEMENT 243
INVENTORY TURNOVER 247
CHAPTER ESSENTIALS 250
KEY TERMS IN THIS CHAPTER 250
QUESTIONS AND PROBLEMS 251
EXCEL EXERCISES 254
WEB ADDRESS 255
CHAPTER 9 MONITORING FOODSERVICE OPERATIONS II:DAILY FOOD COST 257
INTRODUCTION 258
DETERMINING DAILY FOOD COST 258
BOOK VERSUS ACTUAL INVENTORY COMPARISON 269
CHAPTER ESSENTIALS 273
KEY TERMS IN THIS CHAPTER 274
QUESTIONS AND PROBLEMS 274
EXCEL EXERCISES 278
CHAPTER 10 MONITORING FOODSERVICE OPERATIONS III: ACTUAL VERSUS STANDARD FOOD COSTS 279
INTRODUCTION 280
DETERMINING STANDARD COST 281
COMPARING ACTUAL AND STANDARD COSTS 281
PERIODIC COMPARISON 293
CHAPTER ESSENTIALS 297
KEY TERMS IN THIS CHAPTER 297
QUESTIONS AND PROBLEMS 297
EXCEL EXERCISES 300
CHAPTER 11 MENU ENGINEERING AND ANALYSIS 301
INTRODUCTION 302
MENU ENGINEERING 303
MENU ANALYSIS 309
USING 100 PERCENT OF THE AVERAGE FOR NUMBER SOLD 314
CHAPTER ESSENTIALS 316
KEY TERMS IN THIS CHAPTER 316
QUESTIONS AND PROBLEMS 316
EXCEL EXERCISES 319
WEB ADDRESSES 319
CHAPTER 12 CONTROLLING FOOD SALES 321
INTRODUCTION 322 • THE GOALS OF SALES CONTROL 322 •
OPTIMIZING THE NUMBER OF CUSTOMERS 323
MAXIMIZING PROFIT 332 • CONTROLLING REVENUE 343
REVENUE CONTROL USING MANUAL MEANS 345
REVENUE CONTROL USING COMPUTERS 352
CHAPTER ESSENTIALS 354
KEY TERMS IN THIS CHAPTER 355
QUESTIONS AND PROBLEMS 355
EXCEL EXERCISE 356
PART III BEVERAGE CONTROL 357
CHAPTER 13 BEVERAGE PURCHASING CONTROL 359
INTRODUCTION 360
CONTROL PROCESS AND PURCHASING 360
ALCOHOLIC BEVERAGES 361
NONALCOHOLIC BEVERAGES 368
BEVERAGE PURCHASING 369
CHAPTER ESSENTIALS 383
KEY TERMS IN THIS CHAPTER 383
QUESTIONS AND PROBLEMS 384
EXCEL EXERCISES 385
WEB ADDRESSES 386
CHAPTER 14 BEVERAGE RECEIVING, STORING, AND ISSUING CONTROL 387
INTRODUCTION 388
RECEIVING 388
STORING 392
ISSUING 399
CHAPTER ESSENTIALS 408
KEY TERMS IN THIS CHAPTER 408
QUESTIONS AND PROBLEMS 408
EXCEL EXERCISES 409
WEB ADDRESSES 409
CHAPTER 15 BEVERAGE PRODUCTION CONTROL 411
INTRODUCTION 412
OBJECTIVES OF BEVERAGE PRODUCTION CONTROL 412
ESTABLISHING STANDARDS AND STANDARD PROCEDURES FOR PRODUCTION 413
CHAPTER ESSENTIALS 436
KEY TERMS IN THIS CHAPTER 436
QUESTIONS AND PROBLEMS 436
EXCEL EXERCISES 438
WEB ADDRESSES 438
CHAPTER 16 MONITORING BEVERAGE OPERATIONS 439
INTRODUCTION 440
THE COST APPROACH 440
THE LIQUID MEASURE APPROACH 456
THE SALES VALUE APPROACH 457 INVENTORY TURNOVER 466
CHAPTER ESSENTIALS 468
KEY TERMS IN THIS CHAPTER 469
QUESTIONS AND PROBLEMS 469
EXCEL EXERCISES 473
WEB ADDRESSES 474
CHAPTER 17 BEVERAGE SALES CONTROL 475
INTRODUCTION 476
THE OBJECTIVES OF BEVERAGE SALES CONTROL 476
GUEST CHECKS AND CONTROL 486
CHAPTER ESSENTIALS 490
KEY TERMS IN THIS CHAPTER 491
QUESTIONS AND PROBLEMS 491
EXCEL EXERCISE 492
PART IV LABOR CONTROL 493
CHAPTER 18 LABOR COST CONSIDERATIONS 495
INTRODUCTION 496
EMPLOYEE COMPENSATION 496
DETERMINANTS OF TOTAL LABOR COSTS AND LABOR COST PERCENTS 499
LABOR COST CONTROL 513
CHAPTER ESSENTIALS 515
KEY TERMS IN THIS CHAPTER 516
QUESTIONS AND PROBLEMS 516
EXCEL EXERCISES 517
CHAPTER19 ESTABLISHING PERFORMANCE STANDARDS 519
INTRODUCTION 520
ESTABLISHING PERFORMANCE STANDARDS AND STANDARD PROCEDURES 520
ORGANIZING THE ENTERPRISE 523
PREPARING JOB DESCRIPTIONS 526
SCHEDULING EMPLOYEES 531
PERFORMANCE STANDARDS BASED ON TEST PERIOD 547
STANDARD STAFFING REQUIREMENTS 548
STANDARD WORK HOURS 550
STANDARD COST 552
CHAPTER ESSENTIALS 553
KEY TERMS IN THIS CHAPTER 553
QUESTIONS AND PROBLEMS 554
EXCEL EXERCISES 556
WEB ADDRESSES 557
CHAPTER 20 TRAINING STAFF 559
INTRODUCTION 560
A DEFINITION OF TRAINING 560
THE PURPOSE OF TRAINING 561
THE TRAINING PROGRAM 561
CENTRALIZED VERSUS LOCALIZED TRAINING 575
TRAINING MANUALS 576
CHAPTER ESSENTIALS 578
KEY TERMS IN THIS CHAPTER 578
QUESTIONS AND PROBLEMS 579
EXCEL EXERCISES 580
WEB ADDRESSES 581
CHAPTER 21 MONITORING PERFORMANCE AND TAKING CORRECTIVE ACTION 583
INTRODUCTION 584
MONITORING PERFORMANCE 584
TAKING CORRECTIVE ACTION TO ADDRESS DISCREPANCIES BETWEEN STANDARDS AND PERFORMANCE 594
CHAPTER ESSENTIALS 599
KEY TERMS IN THIS CHAPTER 599
QUESTIONS AND PROBLEMS 599
WEB ADDRESS 601
EXCEL EXERCISE 601
GLOSSARY 603
INDEX 623
No more floppy disk! A back-of-the-book CD-ROM provides spreadsheets for the Excel problems included at the end of each chapter and additional Excel exercises new to this edition

Discussion of technology is interwoven throughout the book as well as information on specific technologies that perform the procedures outlined in the chapters

Lists of helpful Web references

Many new end-of-chapter questions

All figures have been updated  
Packaged with a CD-ROM that includes Excel spreadsheets for the end-of-chapter exercises as well as additional exercises

Each of the four parts of the book can stand alone, providing flexibility to instructors 

Separated into four parts including an introduction to food, beverage, and labor cost controls followed by a section devoted to food, another to beverage and the final section on labor

Key terms, review of key concepts, review questions, and spreadsheet exercises reinforce and support students' understanding of a difficult topic 

Increased discussion and examples of technology use in food and beverage operations throughout

Running case study of two restaurants brings cost control concepts to life and helps students think critically about different approaches to cost control.