Principles of Fraud Examination, 4th Edition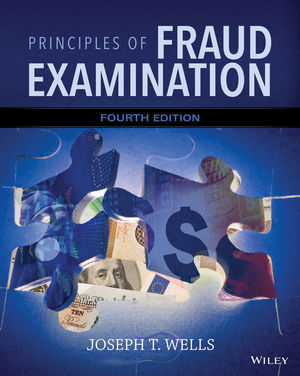 Principles of Fraud Examination, 4th Edition
ISBN: 978-1-118-80323-3
Oct 2013
544 pages
Description
Accountants have historically had an important role in the detection and deterrence of fraud. As Joe Wells' Principles of Fraud Examination 4th edition illustrates, fraud is much more than numbers; books and records don't commit fraud – people do. Widely embraced by fraud examination instructors across the country, Principles of Fraud Examination, 4th Edition, by Joseph Wells, is written to provide a broad understanding of fraud to today's accounting students – what it is and how it is committed, prevented, detected, and resolved. This 4th edition of the text includes a chapter on frauds perpetrated against organizations by individuals outside their staff—a growing threat for many entities as commerce increasingly crosses technological and geographical borders.
1. Introduction
2. Skimming
3. Cash Larceny
4. Billing Schemes
5. Check Tampering
6. Payroll Schemes
7. Expense Reimbursement Schemes
8. Register Disbursement Schemes
9. Noncash Assets
10. Corruption
11. Accounting Principles and Fraud
12. Financial Statement Fraud Schemes
13. External Fraud Schemes
14. Fraud Risk Assessment
15. Interviewing Witnesses
16. Occupational Fraud and Abuse: The Big Picture
APPENDIX A Online Sources of Information
APPENDIX B Sample Code of Business Ethics and Conduct
APPENDIX C Fraud Risk Assessment Tool
A new chapter on frauds perpetrated against organizations by individuals outside their staff has been added to the text.

All of the statistics in the text have been updated to include the most recent ACFE findings.
New material has been added to reflect the increasing use of electronic payments and other technology in fraud schemes.

The text has been updated to reflect all new and revised accounting standards and laws.
Joseph Wells is the authority on fraud examination, has written 22 books, and lectured to tens of thousands business professionals providing the most trusted up-to-date resource for your course.

This easy to use textbook covers fraud into three main categories: asset misappropriation, corruption, and fraudulent statements. From the three main categories, several distinct schemes are identified and classified.
Readers learn key prevention, detection and investigation strategies

Each chapter material contains a Case Study and has essential terms, questions, and discussion issues to help students understand and retain the material.

This book is available as a Wiley E-Text at 50% off the printed textbook. E-textbooks offer the complete content of the printed textbook on the device of your preference—computer, iPad, tablet, or smartphone—giving you the freedom to read or study anytime, anywhere.
Accounting Weekly Updates: www.wileyaccountingupdates.com. Every week brings you the latest news relevant to your Accounting course. Password only available to current users.