Principles of Genetics, 7th Edition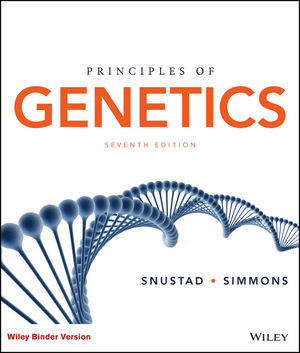 Principles of Genetics, 7th Edition
ISBN: 978-1-119-22798-4
Nov 2015
648 pages
Description
Principles of Genetics is one of the most popular texts in use for the introductory course. It opens a window on the rapidly advancing science of genetics by showing exactly how genetics is done. Throughout, the authors incorporate a human emphasis and highlight the role of geneticists to keep students interested and motivated. The seventh edition has been completely updated to reflect the latest developments in the field of genetics. Principles of Genetics continues to educate today's students for tomorrows science by focusing on features that aid in content comprehension and application.
The text has been completely updated to include some of the most current and important topics studied in Genetics. Some of these include coverage of the Human Genome Project, human gene mapping, genetic disorders, gene therapy, and genetic counseling.
Content has been streamlined for ease of student use and comprehension. Some topics were either eliminated or simplified in presentation. The focus is more on the key concepts and principles that are needed to be successful in this course.

Focus on developing critical thinking skills by emphasizing the analysis of experimental data and problems.
Provides a balance between concepts and experimental detail, using experiments to help explain the "how" and "why" concepts were developed. The text is written to be comprehensive but not encyclopedic.
Offers the human perspective on genetics, through numerous examples and pedagogical elements found in the text.
Features an excellent illustration program with many stepped-out figures. Also uses micrographs in conjunction with illustrations to show the "real" micrograph and "ideal" illustration together.