Principles of Human Anatomy, 14th Edition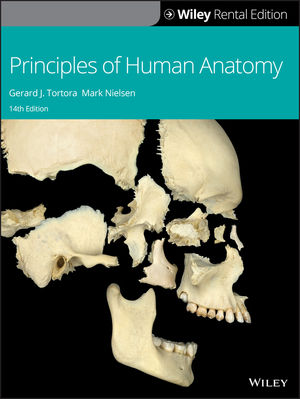 Principles of Human Anatomy, 14th Edition
ISBN: 978-1-119-32059-3 September 2016 984 Pages
Description
Immerse yourself in the spectacular visuals and dynamic content of Principles of Human Anatomy, 14th Edition. Designed for the 1-term Human Anatomy course, this 14th edition raises the standard for excellence in this discipline with its enhanced illustration program, refined narrative, and dynamic resources. Principles of Human Anatomy is a rich digital experience, giving students the ability to learn and explore human anatomy both inside and outside of the classroom.
Concept Videos by Mark Nielsen provide a great resource for faculty who want to incorporate more of a flipped classroom into their teaching. They are also a great resource for students, by helping them focus on key concepts and patterns in anatomy.
The changing landscape of higher education means today's educator must increasingly do more with less. Wiley can help ease this burden put upon instructors, and also help students develop skills, like reading, studying, and critical thinking, increasing their ability to be successful in the classroom.
Real Anatomy 2.0 is a 3-D imaging software that allows students to dissect through over 40 layers of a real human body to study the anatomical structures of all body systems. Using Real Anatomy, students can interact and practice with a real cadaver as much as they need from the comfort of their own computer.