Principles of Law Relating to Overseas Trade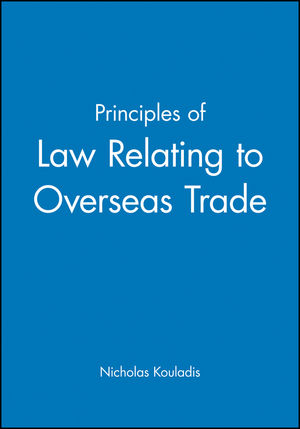 Principles of Law Relating to Overseas Trade
ISBN: 978-0-631-19356-2 August 1994 Wiley-Blackwell 320 Pages
Description
This text provides a clear and concise introduction to the legal framework surrounding international trade.
List of Figures and Specimens.
Foreword.
Series Editor's Introduction.
About The Institute of Export Examinations.
Preface.
Dedication.
Part I: Principles of the Law of Contract: .
1. Elements of Contract.
2. Terms of a Contract.
3. Misrepresentation.
4. Mistake.
5. Remedies for Breach of Contract.
6. Discharge of Contract.
7. Arbitration.
8. Law Governing a Contract.
Part II: Agency Law:.
9. Agency.
10. Exemption Clauses.
Part III: Sale of Goods Act 1979:.
11. Sale of Goods.
12. Right of Disposal (Romalpa Clauses).
13. Seller's and Buyer's Remedies.
14. Introduction of CIF and FOB Sales.
Part IV: Competition Law:.
15. Restrictive Trade Practices.
16. Free Movement of Goods in the European Community.
Part V: Legal Aspects of the Finance of Exports: .
17. The Law Relating to Export Finance.
18. Letters of Credit.
Part VI: Export Insurance:.
19. Marine Insurance.
20. General Average.
21. Institute Cargo Clauses.
Part VII: Legal Aspects of Carriage by Sea, Air and Road:.
22. Carriage of Goods by Sea.
23. Carriage of Goods by Air.
24. Carriage of Goods by Road.
Index.
"A comprehensive introduction to the key areas of law that apply in international business."
Book News
"It is well suited for a textbook at the undergraduate level of perhaps business school." Journal of International Banking Law