Principles of Modern Manufacturing, 5th Edition SI Version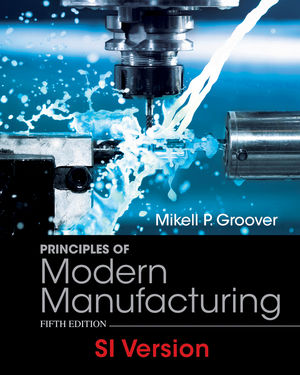 Principles of Modern Manufacturing, 5th Edition SI Version
ISBN: 978-1-118-47420-4
Jan 2013
1024 pages
Product not available for purchase
Description
Fundamentals of Modern Manufacturing is designed for a first course or two-course sequence in manufacturing at the junior level in mechanical, industrial, and manufacturing engineering curricula. Given its coverage of engineering materials, it may also be suitable for materials science and engineering courses that emphasize materials processing. Finally, it may be appropriate for technology programs related to the preceding engineering disciplines. Most of the book's content is concerned with manufacturing processes (about 65% of the text), but it also provides significant coverage of engineering materials and production systems. Materials, processes, and systems are the basic building blocks of modern manufacturing and the three broad subject areas covered in the book.
1. INTRODUCTION AND OVERVIEW OF MANUFACTURING

2. THE NATURE OF MATERIALS

3. MECHANICAL PROPERTIES OF MATERIALS

4. PHYSICAL PROPERTIES OF MATERIALS

5. ENGINEERING MATERIALS

6. DIMENSIONS, SURFACES, AND THEIR MEASUREMENT

7. FUNDAMENTALS OF METAL CASTING

8. METAL CASTING PROCESSES

9. GLASSWORKING

10. SHAPING PROCESSES FOR PLASTICS

11. PROCESSING OF POLYMER MATRIX COMPOSITES AND RUBBER

12. POWDER METALLURGY

13. PROCESSING OF CERAMICS AND CERMETS

14. FUNDAMENTALS OF METAL FORMING

15. BULK DEFORMATION PROCESSES IN METALWORKING

16. SHEET METALWORKING

17. THEORY OF METAL MACHINING

18. MACHINING OPERATIONS AND MACHINE TOOLS

19. CUTTING-TOOL TECHNOLOGY

20. ECONOMIC AND PRODUCT DESIGN CONSIDERATIONS IN MACHINING

21. GRINDING AND OTHER ABRASIVE PROCESSES

22. NONTRADITIONAL MACHINING AND THERMAL CUTTING PROCESSES

23. HEAT TREATMENT OF METALS

24. SURFACE PROCESSING OPERATIONS

25. FUNDAMENTALS OF WELDING

26. WELDING PROCESSES

27. BRAZING, SOLDERING, AND ADHESIVE BONDING

28. MECHANICAL ASSEMBLY

29. RAPID PROTOTYPING AND ADDITIVE MANUFACTURING

30. PROCESSING OF INTEGRATED CIRCUITS

31. ELECTRONICS ASSEMBLY AND PACKAGING

32. MICROFABRICATION TECHNOLOGIES

33. NANOFABRICATION TECHNOLOGIES

34. AUTOMATION TECHNOLOGIES FOR MANUFACTURING SYSTEMS

35. INTEGRATED MANUFACTURING SYSTEMS

36. PROCESS PLANNING AND PRODUCTION CONTROL

37. QUALITY CONTROL AND INSPECTION
New and Updated Content:

The chapter on rapid prototyping has been extensively revised, with a new section on cycle time and cost analysis.
The chapter on integrated circuit processing has been updated including expanded coverage of Rent's rule and how to apply it to several different types of integrated circuits.
The chapter on electronics packaging has been reorganized, with more emphasis on surface mount technology.
A new section on the classification of nanotechnology products has been added to the chapter on nanofabrication.

New Example Problems Added:  New example problems on topics such as manufacturing economics, tensile testing, machining time, rapid prototyping costs, and integrated circuit processing.
More than 60% of the end-of-chapter problems are new or revised, and the total number of end-of-chapter problems has been increased.
Provides a treatment of manufacturing that is both modern and quantitative.
Delivers balanced coverage of the basic engineering materials (metals, ceramics, polymers, and composite materials).
Coverage of recently developed manufacturing processes are continually added, keeping pace with the changes in the manufacturing industry. Contains comprehensive coverage of electronics manufacturing technologies, acknowledging the substantial increase in commercial importance of electronics products and their associated industries.
Emphasizes manufacturing science.
Incorporates greater use of mathematical models and quantitative (end-of-chapter) problems than other manufacturing textbooks.