Principles of Network and System Administration, 2nd Edition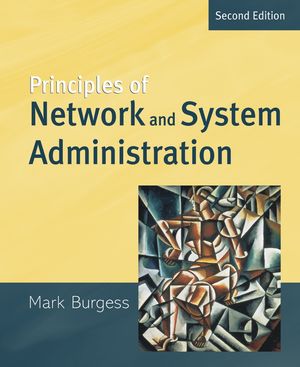 Principles of Network and System Administration, 2nd Edition
ISBN: 978-0-470-86807-2 February 2004 646 Pages
Description
Burgess approaches both network and system administration from the perspective of principles and ideas which do not change on a day-to-day basis.
A great deal of attention is paid to the heuristics of system and network administration; technical and sociological issues are taken into account equally and are presented thoughtfully with an eye to teaching not what to do as a system or network administrator, but how to think about problems that arise in practice. As a result, the author keeps the reader looking forward to what comes next and how to implement what he or she has learned.
The focus is on strategic issues, how to keep systems maintainable and how to manage configuration files across an enterprise. During the 80s and most of the 90s the frontiers of system administration were about understanding what the job entailed and building tools in order to manage networks more efficiently. The next phase is about standardization of management and practice, making system administration more formal and less ad hoc, and Burgess' book is one of the first to begin to push into this area.
Table of contents
Preface to Second Edition.
1. Introduction.
2. System Components.
3. Networked Communities.
4. Host Management.
5. User Management
6. Models of Network and System Administration.
7. Configuration and Maintenance.
8. Diagnostics, Fault and Change Management.
9. Application Level Services.
10. Network Level Services.
11. Principles of Security.
12. Security Implications.
13. Analytical System Administration.
14. Summary and Outlook.
A. Some Useful Unix Commands.
B. Programming and Compiling.
C. Example Telnet Session.
D. Glossary.
E. Recommended Reading.
Bibliography.
Index.
Features
A single, comprehensive resource that responds to the high demand for specialists who can provide advice to users and handle day-to-day administration, maintenance, and support of computer systems and networks
Author approaches both network and system administration from the perspective of the principles that do not change on a day-to-day basis
Shows how to discover customer needs and then use that information to identify, interpret, and evaluate system and network requirements
New coverage includes Java services and Ipv6