Principles of Plant Genetics and Breeding, 2nd Edition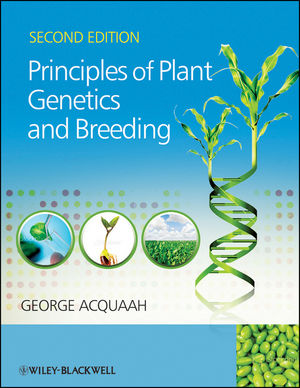 Principles of Plant Genetics and Breeding, 2nd Edition
ISBN: 978-1-118-31369-5 August 2012 Wiley-Blackwell 760 Pages
Download Product Flyer
Download Product Flyer
Download Product Flyer is to download PDF in new tab. This is a dummy description. Download Product Flyer is to download PDF in new tab. This is a dummy description. Download Product Flyer is to download PDF in new tab. This is a dummy description. Download Product Flyer is to download PDF in new tab. This is a dummy description.
Description
To respond to the increasing need to feed the world's population as well as an ever greater demand for a balanced and healthy diet there is a continuing need to produce improved new cultivars or varieties of plants, particularly crop plants. The strategies used to produce these are increasingly based on our knowledge of relevant science, particularly genetics, but involves a multidisciplinary understanding that optimizes the approaches taken.
Principles of Plant Genetics and Breeding, 2nd Edition introduces both classical and molecular tools for plant breeding. Topics such as biotechnology in plant breeding, intellectual property, risks, emerging concepts (decentralized breeding, organic breeding), and more are addressed in the new, updated edition of this text. Industry highlight boxes are included throughout the text to contextualize the information given through the professional experiences of plant breeders. The final chapters provide a useful reference on breeding the largest and most common crops.
Up-to-date edition of this bestselling book incorporating the most recent technologies in the field
Combines both theory and practice in modern plant breeding
Updated industry highlights help to illustrate the concepts outlined in the text
Self assessment questions at the end of each chapter aid student learning
Accompanying website with artwork from the book available to instructors
Table of contents
Preface, ix
Acknowledgements, xi
Industry highlights boxes, xiii
Industry highlights boxes: authors, xv
Section 1 Overview and historical perspectives, 1
1 Introduction, 3
2 History of plant breeding, 22
Section 2 Population and quantitative genetic principles, 41
3 Introduction to concepts of population genetics, 43
4 Introduction to quantitative genetics, 63
Section 3 Reproductive systems, 95
5 Introduction to reproduction and autogamy, 97
6 Allogamy, 121
7 Hybridization, 131
8 Clonal propagation and in vitro culture, 146
Section 4 Germplasm for breeding, 171
9 Variation: types, origin and scale, 173
10 Plant domestication, 185
11 Plant genetic resources, 199
Section 5 Breeding objectives, 227
12 Yield and morphological traits, 229
13 Quality traits, 246
14 Breeding for resistance to diseases and insect pests, 260
15 Breeding for resistance to abiotic stresses, 280
Section 6 Selection methods, 301
16 Breeding self-pollinated species, 303
17 Breeding cross-pollinated species, 337
18 Breeding hybrid cultivars, 355
19 Breeding clonally propagated species, 374
Section 7 Molecular breeding, 383
20 Molecular markers, 385
21 Mapping of genes, 402
22 Marker assisted selection, 424
23 Mutagenesis in plant breeding, 436
24 Polyploidy in plant breeding, 452
25 Molecular genetic modifications and genome-wide genetics, 470
Section 8 Marketing and societal issues in breeding, 489
26 Performance evaluation for crop cultivar release, 491
27 Seed certification and commercial seed release, 511
28 Regulatory and legal issues, 523
29 Value-driven concepts and social concerns, 543
30 International plant breeding efforts, 556
Section 9 Breeding selected crops, 575
31 Breeding wheat, 577
32 Breeding corn, 591
33 Breeding rice, 606
34 Breeding sorghum, 617
35 Breeding soybean, 629
36 Breeding peanut, 639
37 Breeding potato, 647
38 Breeding cotton, 657
39 Breeding tomato, 667
40 Breeding cucumber, 679
41 Breeding roses, 682
Supplementary chapters: review of genetic statistical principles, 689
1 Plant cellular organization and genetic structure: an overview, 691
2 Common statistical methods in plant breeding, 707
Glossary of terms, 726
Appendix 1: Conversion rates, 731
Index, 732
Companion website
The book is accompanied by a companion resources site: www.wiley.com/go/acquaah/plantgeneticsandbreeding With figures and tables from the book.
Reviews
"This is an excellent textbook for students and teachers of plant breeding."  (Expl Agric, 1 January 2013)