Principles of Water Resources: History, Development, Management, and Policy, 3rd Edition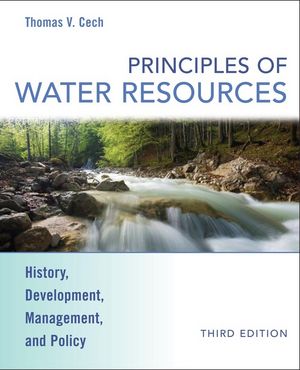 Principles of Water Resources: History, Development, Management, and Policy, 3rd Edition
ISBN: 978-0-470-13631-7
Aug 2009
576 pages
Description
Principles of Water Resources has been written with the non-technical student in mind. The text integrates a wide variety of water resources topics all under one cover, and breaks down complex topics into short, understandable, and interesting explanations. This new edition presents a comprehensive and timely presentation, covering water history, surface and groundwater hydrology, water law, water use and development, economics, environmental issues, water management, policy, and more. This book is ideally suited for undergraduate and graduate-level water resources courses found in departments of geography, earth sciences, biology, geology, watershed science, natural resources management, environmental studies, wildlife management, soils, biology, fisheries & wildlife, and law.  

 
Chapter 1: Historical Perspective Of Water Use And Development.
Chapter 2: The Hydrologic Cycle, Climate, And Weather.
Chapter 3: Surface Water Hydrology.
Chapter 4: Groundwater Hydrology.
Chapter 5: Water Quality.
Chapter 6: Municipal And Irrigation Water Development.
Chapter 7: Dams.
Chapter 8: Water Allocation Law.
Chapter 9: Federal Water Agencies.
Chapter 10: Local, Regional, State, And Multistate Water Management Agencies.
Chapter 11: Drinking Water And Wastewater Treatment.
Chapter 12: Water, Fish, And Wildlife.
Chapter 13: The Economics Of Water.
Chapter 14: Water Use Conflicts.
Chapter 15: Emerging Water Issues.
Appendix.
Photo And Illustration Credits.
Glossary.
Index.
New "Guest Essays" added throughout the text written by top names in their field.
Well written and concise, this text is interesting, informative, and useful for both students and academics.