Prisoners Dilemma: An Intergroup Competition - A Download from Pfeiffer's Classic Activities for Building Better Teams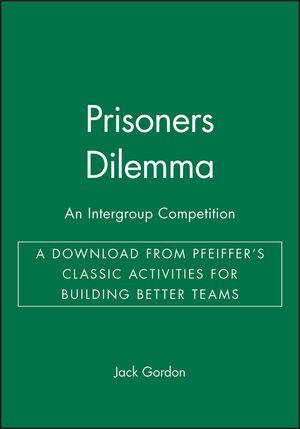 Prisoners Dilemma: An Intergroup Competition - A Download from Pfeiffer's Classic Activities for Building Better Teams
ISBN: 978-0-787-97315-5 April 2004 Pfeiffer
Description
This fast-paced activity enables participants to explore win-lose situations, zero-sum games, the relative merits of collaboration and competition, and the effects of high and low trust on interpersonal relations.
Objectives:
To explore trust between group members and effects of betrayal of trust
To demonstrate effects of interpersonal competition
To dramatize the merit of collaborative posture in intragroup and intergroup relations
Group Size: 2 teams of no more than 8 members each
Time Required: Approximately 1 hour (smaller teams take less time)


Important Information to Review Before Making This Download Purchase
Before purchasing a Pfeiffer Download, you will need Adobe® Acrobat® Reader® Software. If you do not already have it installed on your computer, you may download this free software from the Adobe Web site at Adobe.com.
All Pfeiffer Downloads that you purchase from this site will come with specific restrictions that allow Pfeiffer to protect the copyrights of its products. Just before completing your purchase, you will be prompted to accept our License Agreement. If you do not accept the parameters of this agreement, your credit card will not be charged and your order will be cancelled.