Privacy Lost: How Technology Is Endangering Your Privacy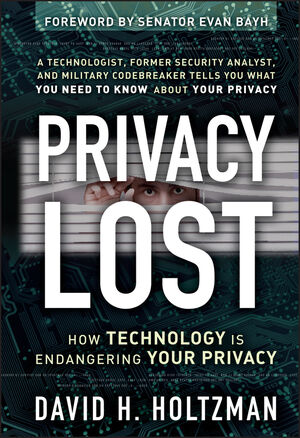 Privacy Lost: How Technology Is Endangering Your Privacy
ISBN: 978-0-787-98511-0 October 2006 Jossey-Bass 352 Pages
Description
While other books in the field focus on specific aspects of privacy or how to avoid invasions, David H. Holtzman--a master technologist, internet pioneer, security analyst, and former military codebreaker--presents a comprehensive insider's exposé of the world of invasive technology, who's using it, and how our privacy is at risk. Holtzman starts out by categorizing privacy violations into ""The 7 Sins Against Privacy"" and then goes on to explain in compelling and easy to understand language exactly how privacy is being eroded in every aspect of our lives.


Holtzman vividly reveals actual invasions and the dangers associated with the loss of privacy, and he takes a realistic look at the trade offs between privacy and such vital issues as security, rights, and economic development.

Praise for Privacy Lost

""Whether we know it or not, we have all become citizens of the Digital Age. As such we need to take responsibility for our conduct, our safety, and our privacy. David Holtzman is deeply knowledgeable about the industry and passionate about the issues. Regardless of your political views, you will come away from this book better equipped to meet the challenges before us all.""
--Geoffrey A. Moore, author, Dealing with Darwin: How Great Companies Innovate at Every Phase of Their Evolution

""Holtzman has drafted a blueprint all citizens of this great land ought to read if they desire to understand what privacy truly means, why it is important to both their everyday life as well as to their understanding of what it really means to be free, and what they can do to salvage what little privacy is left them. Privacy Lost needs to be readily available on the desks of all concerned citizens--heavily dog-eared and underlined.""
--Bob Barr, practicing attorney and former Member of theUnited States House of Representatives
Foreword (
Senator Evan Bayh
).
Preface: The Monkey House.
Acknowledgments.
Introduction: How and Why Our Privacy Is at Risk.
Privacy Invasions Hurt.
1. The Seven Sins Against Privacy.
2. Collateral Damage: The Harm to Society.
Why Technology Is Key.
3. Technology Affects Privacy: How and Why.
4. New Tech, New Crimes: Fresh Wounds.
Privacy in Context.
5. Privacy and the Law: A Right Ahead or Left Behind?
6. Privacy and Identity: The Cult of Me.
7. Privacy and Culture in a Technological World: Shoji Screens.
The Technology.
8. Voyeurism: Surveillance Technology.
9. Stalking: Networks, Tags, and Locators.
The Watchers.
10. Marketing Invasions: Garbos and Greed.
11. Government Invasions for Security: Mugwumps and Momists.
What Can Be Done?
12. Fighting Back: Gandhis, Curmudgeons, and Vigilantes.
13. The Panopticon: See the Bars, Rattle the Cage.
Recommended Reading.
Notes.
Index.
The Author.