Privacy and Confidentiality of Health Information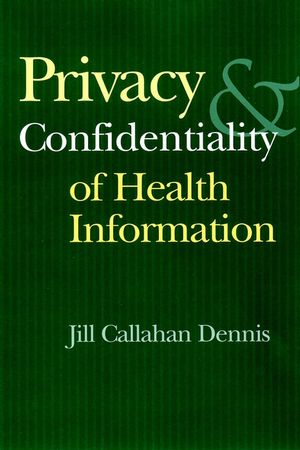 Privacy and Confidentiality of Health Information
ISBN: 978-0-787-95278-5
Sep 2000, Jossey-Bass
128 pages
Product not available for purchase
Description
An AHA Press/Jossey-Bass Publication



Written by Jill Callahan Dennis, an expert in health information management and health care risk management, Privacy and Confidentiality of Health Information offers a step-by-step approach to understanding and providing the necessary protections to patient data. This essential guide presents proven solutions to the most common risks to health privacy and summarizes the resources that can be used to avoid breaches in confidentiality no matter what the health care setting-acute care, long-term care, ambulatory care, or home care.
Preface.

The Author.

1.Introduction: Why Privacy and Confidentiality Matter.

2.The Legal Underpinnings.

3.Navigating the Confidentiality Minefield.

4.Developing Confidentiality Policies and Procedures.

5.Confidentiality Training.

6.The Future.

Resources.

Notes.

References.

Index.
""Risk managers, HIM professionals, information technology managers, nurse executives, physician practice managers-anyone charged with securing patient information-needs Privacy and Confidentiality of Health Information. Jill Dennis's down-to-earth style is easy to read, and she offers practical, invaluable advice."" (Mary Brandt, vice president, professional services, QuadraMed Corporation)

""Written by an authoritative source in the field, this easy-to-read book is a must for anyone responsible for health information privacy and confidentiality. Filled with practical examples and recommAndations, it is just what is needed to establish a firm foundation for achieving HIPAA compliance."" (Fay A. Rozovsky, president, The Rozovsky Group, Inc.)

""...More than a timely, interesting and fact-filled book--it's a vital resource for all health care professionals who play a role in protecting patients' health information...you'll refer to this book many times."" (The Healthcare Collaborator, 8/01)