Private Equity: Transforming Public Stock to Create Value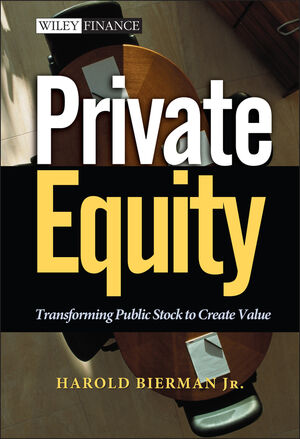 Private Equity: Transforming Public Stock to Create Value
ISBN: 978-1-118-16081-7
Sep 2011
208 pages
Description
Praise for Private Equity

""Harold Bierman has blended an excellent mix of important principles with real case study examples for a better understanding on a rather sophisticated finance subject.""
-Edward M. Dudley, Vice President & General Auditor, ABB Americas

""The role of private equity firms in financing buyouts as well as providing growth capital has expanded significantly in the past decade. In a clear, concise way, Harold Bierman provides a timely and astute analysis of the virtues of private equity as well as creative quantitative methodologies that are applicable to real-life transactions. This book should become essential reading for investors, intermediaries, financial advisors and the management of private, almost private, or soon-to-be private firms.""
-James A. Rowan Jr., Managing Director, Investment Banking
Legg Mason Wood Walker, Inc.

""As the private equity asset class has grown to over $300 billion in the last three years, Bierman analyzes the fundamentals behind the investment decisions of this increasingly important sector. Once completing the book, you will understand the fundamental analytical framework underlying private equity investment.""
-Peter Nolan, Partner, Leonard Green and Partners

""In looking at the private equity arena, Professor Bierman has brought together a diverse group of metrics and valuation formulas into a single text. The book provides a valuable combination of academic theory and real-life case studies. It provides many insights.""
-Peter H. Vogel, Vice President, MeadWestvaco Corporation
The Many Virtues of Private Equity.

Valuing the Target Firm.

Structuring and Selling the Deal.

A Changed Dividend Policy.

A Changed Capital Structure.

Merchant Banking.

Operations: The Other Factor.

The Many Virtues of Going Public.

A Partial LBO: Almost Private Equity.

Metromedia.

LBO of RJR Nabisco (1988).

Marietta Corporation (1994-1996).

The Managerial Buy-out of United States Can Company (2000).

Phillips Petroleum, Mesa and Icahn (1984-1985).

Owens-Corning Fiberglas Corporation (1986).