Privatization: Property and the Remaking of Nature-Society Relations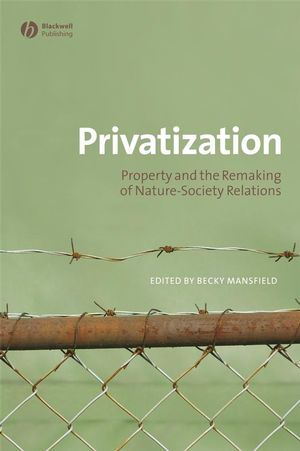 Privatization: Property and the Remaking of Nature-Society Relations
ISBN: 978-1-444-30676-7 March 2009 Wiley-Blackwell 184 Pages
Description
Contemporary privatization remakes nature-society as property and transforms people's relationships to themselves, each other, and the natural world. This groundbreaking collection provides the first systematic analysis of neo-liberal privatization. Rich case studies of privatization in the making reveal both the pivotal role that privatization plays in neoliberalism and new opportunities for challenging neo-liberal hegemony.
Rich case studies linked to broader questions on neoliberalism
Illustrates the importance of property relation and the complexities existing in the meaning and practice of property
Extends current geographical scholarship on neoliberalism –including neoliberalism and nature
Each essay touches on the disciplinary, regulatory dimensions of privatization
Highlights the importance of privatization, both broadly and specifically
Introduction: Becky Mansfield.
1. The Fictions of Autonomous Invention: Accumulation by Dispossession, Commodification and Life Patents in Canada (Scott Prudham).
2. The 'Commons' Versus the 'Commodity': Alter-globalization, Anti-privatization and the Human Right to Water in the Global South (Karen Bakker).
3. The Polanyian Way? Voluntary Food Labels as Neoliberal Governance (Julie Guthman).
4. Property, Markets, and Dispossession: The Western Alaska Community Development Quota as Neoliberalism, Social Justice, Both, and Neither (Becky Mansfield).
5. Discovering Price in All the Wrong Places: The Work of Commodity Definition and Price under Neoliberal Environmental Policy (Morgan Robertson).
6. The Difference that Class Makes: Neoliberalization and Non-Capitalism in the Fishing Industry of New England (Kevin St Martin).
7. Land Reform in the Time of Neoliberalism: A Many-Splendored Thing (Wendy Wolford).
Index.
?This collection is both complex and thought provoking. ? This book offers a much needed critical edge to exploring the contested space characterized by the co-modification of nature and the remaking of nature ? society relations as property.? (International Journal of Social Welfare , July 2009)


Rich case studies linked to broader questions on neoliberalism

Illustrates the importance of property relation and the complexities existing in the meaning and practice of property

Extends current geographical scholarship on neoliberalism –including neoliberalism and nature

Each essay touches on the disciplinary, regulatory dimensions of privatization

Highlights the importance of privatization, both broadly and specifically