Privatizing China: Inside China's Stock Markets, 2nd Edition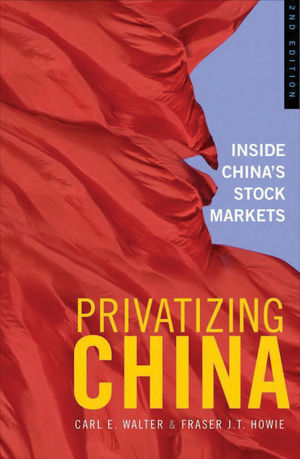 Privatizing China: Inside China's Stock Markets, 2nd Edition
ISBN: 978-0-470-82214-2
Oct 2006
290 pages
Description
PRIVATIZING CHINA

INSIDE CHINA'S STOCK MARKETS

In more depth than any other, this highly readable book lays bare why China's capital markets have fallen so far short of their promise. It is required reading for anyone seeking to understand the realities and the future of an extraordinary economic transformation. - James Kynge, Former Beijing Bureau Chief, Financial Times, Author, China Shakes the World

Carl Walter and Fraser Howie bring together a wealth of experience to this complex and deeply important topic. Their book contains a mine of invaluable quantitative and qualitative information as well as an incredible depth of knowledge. It is essential reading for anyone investing in companies from mainland China. - Professor Peter Nolan, Judge Institute of Management Studies, University of Cambridge

Privatizing China is essential for anyone who wants to understand China's companies and stock markets. no one should invest in China without reading it. - Arthur Kroeber, Managing Editor, China Economic Quarterly

Carl Walter and Fraser Howie combine a deep knowledge of China and finance to provide an unflinching perspective on the country's effort to build functioning capital markets. China may have wowed the world with its high-speed economic growth and manufacturing prowess, but this book is compelling evidence that Beijing's mastery of the universe does not yet extend to the stock market. - Richard MacGregor, beijing Correspodent, FinancialTimes

This book will answer many people's questions regarding SOEs and the stock market. I think it is destined to become the standard reference work on the subject. - Jean C. Oi, Director, Center for East Asian Studies, Stanford University
Preface.
List of Abbreviations.
Chronology.
1. "You're None of Those!"
2. How China's Stock Markets Came to Be.
The evolution of the Shenzhen and Shanghai securities markets.
Original structure of the Shanghai and Shenzhen exchanges.
The Stock Exchange Executive Council and the electronic markets STAQ and NETS).
The regional trading centers.
The auction houses.
The Third Board.
3. Who Minds the Fox: The Regulators.
The PBOC: Market player or market regulator?
Building the CSRC.
The internationalization of the CSRC.
The Stock Exchange of Hong Kong goes to the top.
The CSRC's domestic struggle.
Regulatory philosophy.
The CSRC takes the initiative.
4. Defining Ownership: Share Types
Shares of what?
The 1992 Standard Opinion.
The 1994 Company Law.
Listed company shares.
The 1999 Securities Law.
5. Packaging SOEs: Restructuring and Listing.
Evolution of Chinese corporate law.
How to "package" an SOE.
Corporate restructuring for international listing.
6. The Fortunate Few: Listed Companies.
Who decides who lists?
International pricing.
A-share pricing.
Analysis of listed companies.
A note on private companies.
7. Where Have All the (Retail) Investors Gone?
How many investors?
Who are China's investors?
8. Sliced and Diced: China's Segmented Stock Markets.
Segmented markets.
Is there a company value?
Economic inefficiencies of segmented markets.
Circles of ownership.
Privatization with Chinese characteristics?
9. Searching for the Big Fix, 2001-05.
China's bull markets.
Fund index performance.
The forgettable B share.
Taking the market's measure.
The Fall of China's Stock Markets, 2001-2006.
10. How CSRC Sought to Merge the Markets: the G Company Reform.
Trying to merge the segmented markets.
The character of the market in the new century.
Trying to restore the status quo.
The terms of the debate about state shares.
The securities industry debacle.
11. Foreign Investors in China'sw Stock Market.
SASAC: defender of state property rights.
The CSRC's "Final Fix".
Pilot cases of the new policy.
Warrants and the National Champion: BaoSteel.
12. Bulls and Bears: Summing Up.
Market entry regulations and restrictions.
The approval process.
Market strategies.
Investment history.
Appendix 1: China's Red-Hot Primary MArkets.
Appendix 2: Glossary of English/Chinese Securities Terminology.
Endnotes.
Select Bibliography.
Index.