Probability, Reliability, and Statistical Methods in Engineering Design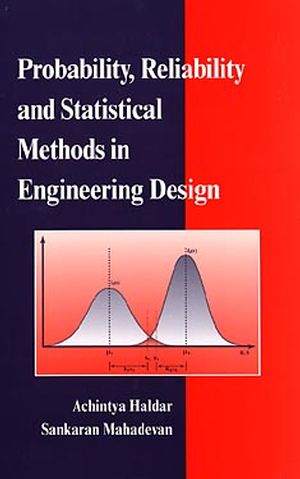 Probability, Reliability, and Statistical Methods in Engineering Design
ISBN: 978-0-471-33119-3
Nov 1999
320 pages
Description
Text for a one-term course on Probability and Statistics intended primarily for civil engineering majors. Most often taught out of the Civil Engineering Department. Covers the key concepts and statistical techniques for assessing the reliability of structures and the risk factors in their design.
Basic Concept of Reliability.

Mathematics of Probability.

Modeling of Uncertainty.

Commonly Used Probability Distributions.

Determination of Distributions and Parameters from Observed Data.

Randomness in Response Variables.

Fundamentals of Reliability Analysis.

Advanced Topics on Reliability Analysis.

Simulation Techniques.

Appendices.

Conversion Factors.

References.

Index.
Provides the basic probability and statistical techniques for engineering students to learn how to conduct reliability assessments
Integrates the risk-based and deterministic design concepts, enabling students to understand the transition from traditional to modern design practices.
Reviewers have commented. . .

"Well written, clearly presented and easy to use for an undergraduate course in engineering."
"Although the contents of Chapters 1 through 9 are well known, they are presented so simply and clearly that they are relevant and easy to used for an undergraduate course in engineering."
"Both the theory and application have been treated very well and with great detail…"
"Finally, we have an alternative to the dated 'Ang/Tang'."