Probiotic Dairy Products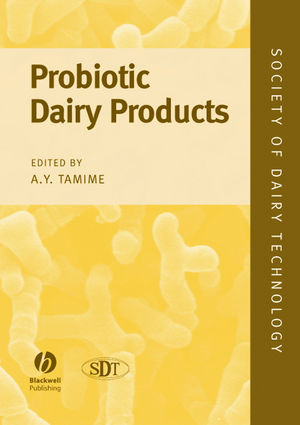 Probiotic Dairy Products
ISBN: 978-1-405-17318-6 April 2008 Wiley-Blackwell 236 Pages
Description
Following significant developments in recent understanding of milk systems and an explosion in interest in the use of probiotics and prebiotics as functional foods Probiotic Dairy Products looks at advancements in the dairy industry and reviews the latest scientific developments in regard to the 'functional' aspects of dairy and fermented milk products and their ingredients. The first title in Blackwell Publishing's prestigious Society of Dairy Technology Series, this key text includes coverage of:
Production systems
Gut microflora
Genomic characterisation of probiotic micro-organisms
Physical properties associated with health claims
Maintenance of the viability of probiotic products
National and international statutory regulations
Edited by Adnan Tamime, with contributions from international authors and full of core commercially useful information for the dairy industry, this book is an essential title for dairy scientists, dairy technologists and nutritionists worldwide.
Preface to Technical Series.
Preface.
Contributors.
Chapter 1.
Microbiota of the Human Gut.
Chapter 2.
Genomic Characterisation of Starter Cultures.
Chapter 3.
Production and Maintaining Viability of Probiotic Micro-organisms.
Chapter 4.
Current Legislation of Probiotic Products.
Chapter 5.
Enumeration and Identification of Mixed Probiotic and Lactic Acid Bacteria Starter Cultures.
.
Chapter 6.
Prebiotic Ingredients with Emphasis on Galactoologosaccharides.
Chapter 7.
Health claims associated with Probiotics.
.
Chapter 8.
Production of Vitamins, Exopolysaccharides and Bacteriocins by Probiotic Bacteria.
Chapter 9.
Future Development of Probiotic Dairy Products.
References.
Index
"This technical volume would serve as an excellent reference material to students majoring in Dairy Technology, Foods and Nutrition Nutraceuticals and Quality Control … . Also a good resource for researchers, academicians, scientists, technologists dairy industries and functional food manufacturers." (Indian Journal of Nutrition and Dietetics, 2008)


Internationally known contributing authors and book editor

Part of the prestigious Society of Dairy Technology (SDT) Book Series

Core commercially useful information for the dairy industry