Problem Based Learning in Health and Social Care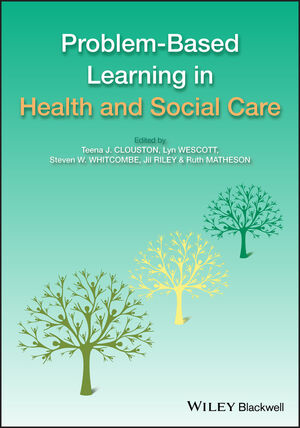 Problem Based Learning in Health and Social Care
ISBN: 978-1-444-32055-8 February 2010 Wiley-Blackwell 232 Pages
Description
Problem-Based Learning in Health and Social Care
offers a practical insight into the opportunities, benefits and challenges of using problem-based learning (PBL) in health and social care education and also student-directed learning (SDL) as a learning and teaching tool. It presents a collection of practical and emerging concepts in terms of how to do PBL and SDL and considers the practical barriers and solutions, challenges to self awareness and finally future potentialities and directions for learning.
The book contextualises and summarises the development of PBL and uses the analogy of a journey to 'travel' the reader through the book, covering such key topics as developing PBL curricula, becoming a tutor facilitator, SDL, reflection, assessing and evaluating PBL, group skills and team working. It offers practical guidance on how courses, individual staff and students can develop skills and tactics to understand PBL and SDL and thus achieve effective delivery and learning experiences.
Table of contents
List of Contributors
1 Starting out: a guide to using this book and its development (Lyn Westcott).
Part 1 General Principles of Using Problem-Based Learning
2 Exploring the foundations for problem-based learning (Ruth Matheson and Bernhard Haas).
3 Readiness for problem-based learning (Juan Delport and Steven W. Whitcombe).
4 Developing problem-based learning curricula (Lyn Westcott, Alison Seymour and Sara Roberts).
5 Becoming a problem-based learning facilitator (Gwilym Wyn Roberts).
6 Managing group dynamics and developing team working in problem-based learning (Alison Seymour).
7 Assessing problem-based learning curricula (Sue Pengelly).
Part 2 The Theoretical Interface with Problem-Based Learning
8 Reflection and the problem-based learning curriculum (Gail Boniface).
9 A reflexive model for problem-based learning (Steven W. Whitcombe and Teena J. Clouston).
10 Promoting creative thinking and innovative practice through the use of problem-based learning (Jill Riley and Ruth Matheson).
11 Problem-based learning and the development of capital (Jill Riley and Steven W. Whitcombe).
12 An evolving vision for learning in health-care education (Andrew Machon and Gwilym Wyn Roberts).
Part 3 The Learner in Problem-Based Learning
13 The student experience (Liz Galle and Sandra Marshman).
14 Becoming lifelong learners in health and social care (Pam Stead, Gareth Morgan and Sally Scott-Roberts).
15 Becoming a self-directed learner (Susan Delport and Ruth Squire).
Part 4 Final Thoughts
16 Interweaving the strands of thinking in problem-based learning (Teena J. Clouston).
Index.