Proceedings of the Third World Conference on Structural Control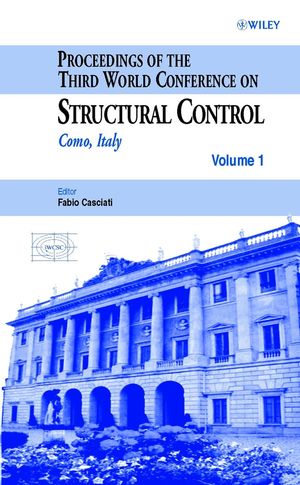 Proceedings of the Third World Conference on Structural Control
ISBN: 978-0-471-48980-1 March 2003 2704 Pages
Download Product Flyer
Download Product Flyer
Download Product Flyer is to download PDF in new tab. This is a dummy description. Download Product Flyer is to download PDF in new tab. This is a dummy description. Download Product Flyer is to download PDF in new tab. This is a dummy description. Download Product Flyer is to download PDF in new tab. This is a dummy description.
Description
Organized by the International Association for Structural Control(IASC), and sponsored by the European Association for the Controlof Structures (EACS), the recent world conference on structuralcontrol (3WCSC) brought together engineers, scientists, architects,builders and other practitioners interested in the general fieldsof active, hybrid and passive vibration control, health monitoringand damage detection, intelligent/smart materials and systems.Applications included buildings, bridges, space structures andcivil infrastructures under the action of dynamic environments(earthquake, wind, traffic...) and man-made loads. It provideda valuable forum for the discussion of the most pressing concernsin structural control and its related topics.

The conference covered a wide range of topics including activeand semi-active control devices, passive control devices, controlalgorithms for linear and non-linear systems, modeling andidentification of structural systems, sensors, health monitoringand damage detection, benchmark test of building and bridges,innovative materials for structural control, applications toaerospace structures, applications to bridges, applications tocritical structures, external dynamic force characteristics andcontrollability issues, implications of severe ground motions, windforces, codes for structural control, and so forth. Suchcomprehensive treatment of the most innovative developments instructural control will make these volumes an informative referencefor all researchers and engineers interested in this area.

Proceedings of the US - Europe Workshop On Sensors andSmart Structures Technology Como and Somma Lombardo, Italy

In the last few years, significant progress has been made in thearea of sensing technology and structural healthmonitoring/condition assessment in the US and Europe. Innovativeconcepts involving new hardware, algorithms, and software have beenproposed. There have also been several full-scale trialimplementations of densely sensor-instrumented infrastructures andhealth monitoring systems, as well as case studies on bridges inEurope and in the US.

Much can be learnt through US/European collaboration in the areaof experimental verification on small, medium, large and full-scaleprojects. Moreover, a common framework for expanded future jointresearch can be developed on the increased understanding achievedthrough mutual learning.

This workshop consisted of seminar sessions on several themeswhich included innovative sensing hardware, advances in wirelesstechnology, and damage detection/characterization and conditionassessment methodologies. In addition, there were several workshopsessions devoted to summarizing the status of the sensors and smartstructures technologies in these topics, identifying the compellingresearch issues, and formulating an action plan withrecommendations for development and implementation through possiblecollaborative research projects and sharing of scientific data.
Table of contents
A Record of the Opening Ceremony.

Plenary Keynote Lectures.

Invited Lectures: From the research to the application.

Invited Lectures: Reporting from industry.

Reports from Panels.

Volume 2.

Special Technolgical Sessions.

Structural Health Monitoring.

New Energy Absorbing Devices and Testing.

Active Control Methods based on Uncertain Models.

Semi-Active Seismic Isolation.

SMA Applications I.

Structural Monitoring.

New Applications and Development of Passive Vibration Control andBase Isolation Technologies.

Semiactive Devices.

SMA Applications II.

Integrating Structure and Control Design.

New Applications and Development of Passive Vibration Control andBase Isolation Technologies I.

Smart Materials for Structural Control.

Control of Space Robots and Manipulator.

Environment Monitoring.

Monitoring for Maintenance of Infrastructure.

Earthquake Mitigation via Control Algorithms.

Buildings and Bridges Protection: Experimental and TestingActivities.

Benchmark Protection on Cable-Stayed Bridges.

Fiber Optic Sensors in Structural Monitoring.

Retrofitting of Historical Building in the MediterraneanArea.

Experimental Facilities.

Health Monitoring.

Magneto-Rheological Fluid Dampers and 3D Isolation Devices.

Timber Structures.

Volume 3.

Normal Sessions.

Bridges.

Active I.

Monitoring I.

Cable Structures.

Seismic Dissipation Devices.

Active II.

Piezoelectrics.

Bridges Monitoring.

Dissipation Devices I.

Seismic Applications of Semiactive Control.

Monitoring II.

Testing Passive Systems.

Helping the Cultural Heritage.

Control Algorithms towards Semiactive Control.

Damage Detection.

TMD/TLC.

MR Dampers.Elevator Cranes.

Dissipation Devices II.

Active III.

Experimental Approaches.

Volume 4.

Section 1.

Section 2.

Section 3.

Working Group Reports.

Workshop Resolution.