Process Analytical Technology: Spectroscopic Tools and Implementation Strategies for the Chemical and Pharmaceutical Industries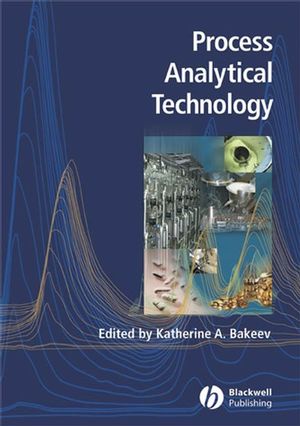 Process Analytical Technology: Spectroscopic Tools and Implementation Strategies for the Chemical and Pharmaceutical Industries
ISBN: 978-1-405-17319-3 April 2008 Wiley-Blackwell 472 Pages
Description
The use of real or near real time measurement of chemical production process parameters as the basis for achieving control or optimisation of a manufacturing process has wide application in the petrochemical, food and chemical industries. Process analytical chemistry (PAC), or process analytical technology (PAT) as it has recently been called, is now being deployed in the pharmaceutical industry, where it is seen as a technology that can help companies to improve their conformity with manufacturing compliance regulations.
The objective of this book is to provide a starting point for implementing process analytical chemistry tools in process monitoring applications or as part of a total quality management system. Written from the perspective of the spectroscopist required to implant PAT tools in a process environment, attention is focussed on measurements that are made "in process" at-line or off-line, providing data on product during manufacture. With chapters covering the key spectroscopic tools, their applications in the pharmaceutical and chemical industries and basic chemometrics, the novice can quickly develop a sound understanding of the most practical technologies and applications. Implementation strategies are fully covered and address some of the critical issues that need to be tackled when setting up a PAT project – including choosing a project with a sound business justification in the first place.
Table of contents
Contributors.
Preface.
List of Abbreviations.
Process Analytical Chemistry: Introduction and Historical Prespective.
Dr. Ernest Baughman.
Implementation of Process Analytical Technologies.
Dr. Gert Thurau & Dr. Robert Guenard.
Merck and Co., Inc.
Near-Infrared Spectroscopy for Process Analytical Chemistry: Theory, Technology and Implementation.
Mike Simpson.
ABB Analytical and Advanced Solutions.
Infrared Spectroscopy for Process Analytical Applications.
John P. Coates.
Coates Consulting.
Process Raman Spectroscopy.
Dr. Nancy Jestel.
General Electric, Advanced Materials.
UV-Vis for On-Line Analysis.
Dr. Lewis C. Baylor and Dr. Patrick E. O'Rourke.
Equitech International Corporation.
Near-Infrared Chemical Imaging as a Process Analytical Tool.
Dr. E. Neil Lewis, Joseph W. Schoppelrei, Eunah Lee and Linda H. Kidder.
Spectral Dimensions.
Chemometrics in Process Analyical Chemistry.
Dr. Charles E. Miller.
Dupont Engineering Technologies.
On-Line Applications in the Pharmaceutical Industry.
Dr. Steven J. Doherty and Dr. Charles N. Kettler.
Eli Lilly and Company.
Use of Near-Infrared Spectroscopy for Off-Line Measurements in the Pharmaceutical Industry.
Prof. Marcel Blanco and Manel Alcalá.
Autonomous University of Barcelona.
Applications of Near-Infrared Spectroscopy (NIR) in the Chemical Industry.
Dr. Ann M. Brearley.
Future Trends in Process Analytical Chemistry.
Dr. Katherine A. Bakeev.
Index.
Reviews
"The book provides an excellent first port of call for anyone seeking material and discussions to understand the area better. It deserves to be found in every library that serves those who are active in the field of Process Analytical Technology.
The layout of the book is well conceived, making it easy for the reader to quickly flip back and forth.
It is also a pleasure to recommend this book to any beginning post-graduate student or novices seeking a sound understanding of the PAT area."
Current Engineering Practice
Features
* Provides detailed overview of the most useful PAC spectroscopic techniques
* Includes detailed discussion of implementation issues, including regulatory drivers, and case studies from the chemical and pharmaceutical industries* Focuses on the links between the process chemistry and the PAC technology, highlighting the importance of understanding both in any PAC programme.