Process Engineering Problem Solving: Avoiding ""The Problem Went Away, but it Came Back"" Syndrome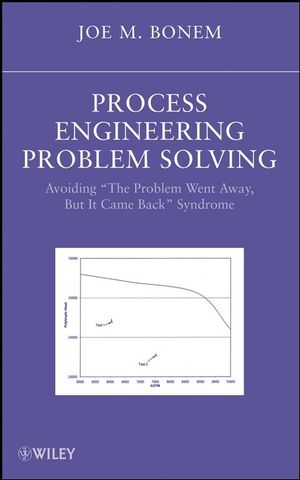 Process Engineering Problem Solving: Avoiding ""The Problem Went Away, but it Came Back"" Syndrome
ISBN: 978-0-470-37805-2 September 2008 296 Pages
Description
Avoid wasting time and money on recurring plant process problems by applying the practical, five-step solution in Process Engineering Problem Solving: Avoiding "The Problem Went Away, but it Came Back" Syndrome. Combine cause and effect problem solving with the formulation of theoretically correct working hypotheses and find a structural and pragmatic way to solve real-world issues that tend to be chronic or that require an engineering analysis. Utilize the fundamentals of chemical engineering to develop technically correct working hypotheses that are key to successful problem solving.
Table of contents
Preface.
Chapter 1: Introduction.
Chapter 2: Limitations to Plant Problem Solving.
Chapter 3: Successful Plant Problem Solving.
Chapter 4: Examples of Plant Problem Solving.
Chapter 5: Formulation of Working Hypotheses.
Chapter 6: Application to Prime Movers.
Chapter 7: Application to Plate Processes
Chapter 8: Application to Kinetically Limited Processes.
Chapter 9: Application to Unsteady State.
Chapter 10: Verification of Data.
Chapter 11: Successful Plant Tests.
Chapter 12: Utilization of Manual Computations.
Chapter 13: Putting it altogether.
Chapter 14: Final Words.
Features
Gives you a systematic, practical, five-step approach developed specifically to solve process engineering problems
Details a step-by-step method based on actual, in-plant experiences rather than on abstract theory
Presents chemical engineering fundamentals from the perspective of the problem solver
Shows you how to use these chemical engineering fundamentals as a basis for  developing technically correct working hypotheses
Includes real world example problems to illustrate the concepts, techniques, and calculations