Process Engineering for a Small Planet: How to Reuse, Re-Purpose, and Retrofit Existing Process Equipment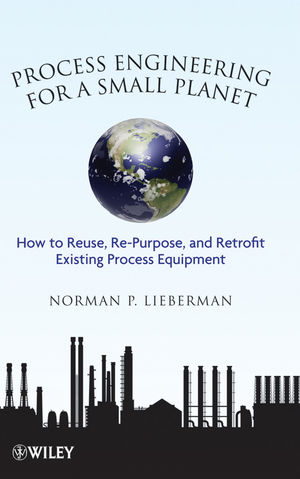 Process Engineering for a Small Planet: How to Reuse, Re-Purpose, and Retrofit Existing Process Equipment
ISBN: 978-0-470-63705-0 August 2010 296 Pages
Download Product Flyer
Download Product Flyer
Download Product Flyer is to download PDF in new tab. This is a dummy description. Download Product Flyer is to download PDF in new tab. This is a dummy description. Download Product Flyer is to download PDF in new tab. This is a dummy description. Download Product Flyer is to download PDF in new tab. This is a dummy description.
Description
Methods for more planet-friendly process engineering
Our earth is just one big, complex Process Facility with limited air, water, and mineral resources. It responds to a number of process variables—among them, humanity and the environmental effects of our carbon consumption. What can professionals in the Hydrocarbon Process Industry do to retard environmental degradation? Rather than looking to exotic technology for solutions, Process Engineering for a Small Planet details ready-at-hand methods that the process engineer can employ to help combat the environmental crisis.
Drawing from the author's professional experience working with petroleum refineries petroleum refineries, petrochemical plants, and natural gas wells, this handbook explains how to operate and retrofit process facilities to:
Reuse existing process equipment
Save energy
Reduce greenhouse gas emissions
Expand plant capacity without installing new equipment
Reduce corrosion and equipment failures
Covering topics from expanding fractionator and compressor capacity and vacuum tower heater expansion to minimizing process water consumption and increasing centrifugal pump capacity, Process Engineering for a Small Planet offers big ideas for saving our small planet.
Table of contents
Foreword.
Preface.
Introduction: Turning of the Tide.
1. Expanding Fractionator and Compressor Capacity.
Reuse of Existing Fractionator.
Changing Tray Deck Panels.
Alternates to New Compressor.
Keeping Compressor Rotor Clean.
Calculating Liquid Injection Rates to Compressor.
2. Vacuum Tower Heater Expansion.
Entrainment Velocity Limitations.
Missing Tray Deck Manways.
Heater Draft Limitation.
Improving Ejector Performance.
Velocity Steam in Heater Passes.
3. Natural-Draft-Fired Heaters.
Control Excess Air.
O2 and Combustible Analyzers.
Improving Air–Fuel Mixing.
Convective Section Air Leaks.
Air Preheater Leaks.
Indirect Air Preheat.
4. Crude Pre-Flash Towers.
Pre-Flash Tower Flooding.
Energy Saving with Pre-Flash Towers.
Capacity Benefits.
Pre-Flash Tower External Reflux.
5. Amine Regeneration and Sulfur Recovery.
Amine Capacity Expansion.
Sulfur Plant Capacity Expansion.
Rich Amine Flash Drum Design.
Cascaded Seal Legs.
Sulfur Recovery from Sour Water Stripper Off-Gas.
Acid Gas of High CO2 Content.
Sulfur Plant Oxygen Enrichment.
6. Treating and Drying Hydrocarbons.
Jet Fuel Treating.
Salt Dryer Operation.
Water-Washing Sodium Naphthanates from Jet Fuel.
Pipe Distributor Design.
Treating Sour Naphtha.
Converting Mercaptans to Disulfides.
7. Minimizing Process Water Consumption.
Two-Stage Wastewater Stripper.
Steam Condensate Recovery.
Condensate Drum Balance Line Location.
Water Hammer.
Measuring Condensate Recovery.
Cooling Tower Cycles of Concentration.
8. Incremental Expansion Design Concept: Reprocessing Waste Lube Oil.
Reprocessing Waste Lube Oil.
Vacuum Tower Design.
Wash Oil Grid Coking.
Vapor Horn Design in Vacuum Towers.
Stripping Tray Efficiency.
Precondenser Fouling.
Pump NPSH Limit in Vacuum Service.
Exchanger Fouling in Waste Oil Service.
Transfer-Line Sonic Velocity.
9. Improving Fractionation Efficiency in Complex Fractionators.
Pre-Flash Tower Concept.
Intermediate Reflux.
Stripping Tray Efficiency.
Maximizing Diesel Recovery from Crude.
Picket Weirs.
Adjusting Pump-arounds.
Pressure Optimization.
10. Increasing Centrifugal Pump Capacity and Efficiency.
Hydraulic Limitations.
Worn Impeller-to-Case Clearances.
Impeller Wear Ring.
Upgrading Impeller Size.
Marginal Cavitation.
Viscosity Effects on Efficiency.
NPSH Limited Condition.
11. Eliminating Process Control Valves Using Variable-Speed Drivers.
Frequency Control of Motors.
Eliminating Control Valves on Pump Discharge.
Direct Speed Control of Steam Turbine.
Variable-Speed Compressors.
Spill-backs Waste Energy.
Calculating Incentive for Variable-Speed Drivers.
Floating Tower Pressure Control.
12. Expanding Refrigeration Capacity.
Centrifugal Compressor Head vs. Flow Curve.
Calculating Compression Work.
Horsepower vs. Suction Pressure Limited.
Effect of Increasing Suction Pressure.
Reducing Refrigerant Condenser Fouling.
Effect of Noncondensibles.
Condensate Backup in Condenser.
13. Oversizing Equipment Pitfalls.
Amine H2S Scrubber.
Optimizing Number of Trays in Absorbers.
Consequences of Overdesign.
Use of Demister in Knockout Drum.
Low Demister Velocity Promotes Mist Entrainment.
14. Optimizing Use of Steam Pressure to Minimize Consumption of Energy.
Preserving the Potential of Steam to Do Work.
Power Recovery from Steam to a Reboiler.
Use of the Mollier Diagram.
Cogeneration Plants.
Extracting Work from Reboiler Steam Using Existing Equipment.
Understanding Thermodynamics of Flowing Steam.
Steam Turbine Efficiency Checklist.
15. Expanding Compressor Capacity and Efficiency.
Reciprocating Compressors.
Pulsation Dampener Plates.
Adjustable Head-End Unloaders.
Natural Gas Engines.
Axial Compressor.
Rotor Fouling of Axial Air Compressor.
Centrifugal Compressors.
Cleaning Centrifugal Compressor Rotor.
16. Vapor–Liquid Separator Entrainment Problems.
Effect of Foam on Indicated Liquid Levels.
Hydrogen-Heavy Gas Oil Separtors.
Foam Induced Carry-Over.
Enhancing De-Entrainment Rates.
Vapor Distribution Aids De-Entrainment.
17. Retrofitting Shell-and-Tube Heat Exchangers for Greater Efficiency.
Running Slops Without Fouling.
Floating Suction in Charge Tanks.
Exchanger Online Spalling.
Effect of Feed Interruptions.
Tube Velocity and Surface Roughness.
Shell-Side Seal Strips.
Cooling High-Viscosity Fluids.
Expanding Water Cooler Capacity.
Hydrocarbon Losses to Cooling Towers.
18. Reducing Sulfur and Hydrocarbon Emissions.
Sulfur Plant Waste Heat Boiler Modifications.
Hydrocarbon Leaks in Seawater Cooling Systems.
Incinerator Back-Fire in Sulfur Plant Main Reaction Furnace.
Loss of Draft Due to Air Leaks.
Global Emissions in Perspective.
19. Hydrocarbon Leaks to the Environment.
Measuring Leaks Through Valves.
Fixing Leaking Valves On-Stream.
Detecting Leaking Relief Valves.
On-Stream Repair of Leaking Relief Valves.
Measuring Flows in Flare Lines.
Leaks into Cooling Water.
Air Cooler Leaks.
Valve Stem Packing.
Leaking Pump Mechanical Seal and Improper Use of Seal Flush.
Fixing Weld Leaks On-Stream.
20. Composition-Induced Flooding in Packed Towers: FCU Fractionator Expansion.
Fluid Cracking Unit Fractionator Expansion.
Flooding of Slurry Oil P/A Sections.
FCU Fractionator Vapor Line Quench.
Multipump Piping Stress Analysis.
Perception vs. Reality in Process Design.
21. Maintenance for Longer Run Lengths.
Sulfuric Acid Regeneration.
Importance of Reactor Insulation.
On-Stream Piping Repairs.
Preserving Pump Mechanical Seals.
Concept of Avoiding Unit Shutdowns.
22. Instrument Malfunctions.
Control Valve Loss Due to Instrument Air Pressure Signal.
Stuck Flow Control Valve Stem.
Mislocated Liquid-Level Tap.
Reducing Load to Vacuum System by Correcting False.
Level Indication.
23. Summary Checklist for Reuse of Process Equipment.
Fired Heaters.
Heat Exchangers.
Fin-Fan Air Coolers.
Distillation Tower Trays.
Vapor–Liquid Separators.
Centrifugal Pumps.
Fixed-Bed Reactors.
Electric Motors.
Gas and Steam Turbines.
Reciprocating and Centrifugal Compressors.
Air Blowers.
Water–Hydrocarbon Separators.
Overcoming Utility System Limits.
24. Water–Hydrocarbon Separation: Corrosive Effects of Water.
Water–Oil Separators.
Corrosive Elements from Cracking Plants.
Water Traps in Strippers.
Current CO2 Levels.
Environmental Overview.
Appendix: Solar Power Potential.
Index.