Processing, Properties, and Design of Advanced Ceramics and Composites, Volume 259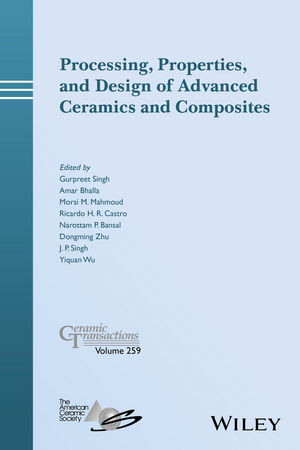 Processing, Properties, and Design of Advanced Ceramics and Composites, Volume 259
ISBN: 978-1-119-32481-2 September 2016 398 Pages
Description
This proceedings volume contains a collection of 34 papers from the following symposia held during the 2015 Materials Science and Technology (MS&T '15) meeting:
Innovative Processing and Synthesis of Ceramics, Glasses and Composites
Advances in Ceramic Matrix Composites
Advanced Materials for Harsh Environments
Advances in Dielectric Materials and Electronic Devices
Controlled Synthesis, Processing, and Applications of Structure and Functional Nanomaterials
Processing and Performance of Materials Using Microwaves, Electric and Magnetic Fields, Ultrasound, Lasers, and Mechanical Work, Rustum Roy Memorial Symposium
Sintering and Related Powder Processing Science and Technologies
Surface Protection for Enhanced Materials Performance: Science, Technology, and Application
Thermal Protection Materials and Systems
Ceramic Optical Materials
Alumina at the Forefront of Technology
Preface ix
CONTROLLED SYNTHESIS, PROCESSING, AND APPLICATIONS OF STRUCTURAL AND FUNCTIONAL NANOMATERIALS
Assessing the Limits of Accuracy for the Tauc Method for Optical Band Gap Determination 3
Dunbar P. Birnie, III
Investigation of Pyroaurite-Type Anionic Clay-Derived Mixed Oxides with Various Compositions 17
Jonathan Gabriel, Aarti Patel, Ewul Ebenezer, Andrei Jitianu, and Mihaela Jitianu
Formation and Characterization of Nano-Scale Titanium Carbides in a Titanium Trialuminide Intermetallic 31
Edward A. Laitila and Donald E. Mikkola
Growth Kinetics of Lanthanum Phosphate Core/Shell Nanoparticles Doped with Ce-Tb and Eu 45
M. C. Molina Higgins and J. V. Rojas
Influence of Synthesis Parameters on Morphology, Crystalline Structure and Colloidal Stability of Core and Core-Shell LaPO4 Nanoparticles 57
Miguel Toro and Jessika Rojas
Zinc Oxide Nanoparticles for Space Satellite Solar Panel Protection Layer 71
Phillip Clift, Jordan Wladyka, Tyler Payton, and Dale Henneke
DIELECTRONIC MATERIALS AND ELECTRONIC DEVICES
Synthesis and Characterization of BaTiO3-Based Ceramics Doped in B Site by BaTi1-xNbxO3 81
F. R. Barrientos-Hernández, M. Ortiz-Domínguez, M. Pérez-Labra, E. O. Ávila-Dávila, J. P. Hernández-Lara, and L. A. Cruz-Gutiérrez
Influences of the Ceramic Matrix in the Properties of Ferroelectric Composites Based on PYDF Polymers 91
Danilo Umbelino Figueiredo, Evaristo Alexandre Falcão, Eriton Rodrigo Botero, José Antonio Eiras, Fabio Luis Zabotto, and Ducinei Garcia
Piezoelectric Response of Sn and Mn Modified Lead Titanate Piezoelectric Ceramics 99
Deepam Maurya, Hyun-Cheol Song, Min-Gyu Kang, Yongke Yan, Robert Bodnar, Ilan Levine, Edward Behnke, Haley Borsodi, Juan I. Collar, and Shashank Priya
Comparison of Grain Size Effects on Microstructure and Dielectric Properties of Y2/3Cu3Ti4-X FexO12 (X = 0.00, 0.05 and 0.15) Ceramics Synthesized by Glycine Assisted Semi Wet Route 117
S. Sharma, M.M. Singh, Narsingh B. Singh, and K.D. Mandal
Calcium Copper Titanate Based High Dielectric Constant Materials for Energy Storage Applications 131
Disna P. Samarakoon, Nirmal Govindaraju, and Raj N. Singh
SINTERING AND RELATED POWDER PROCESSING
Synthesis, Characterization and Gibbs Energy of Thermoelectric Mg2Si 143
Mallikharjuna R. Bogala and Ramana G. Reddy
Modeling Densification during Fast Firing of Yttria-Stabilized Zirconia 153
Sergio Y. Gómez, Farshad Farzan, Ricardo H. C. Castro, and Dachamir Hotza
Mechanistic Studies of Compacted and Sintered Rock Salt 159
Claudia H. Swanson, Susanne Böhme, and Jens Günster
Sintering of Nanostructured Zirconia: A Molecular Dynamics Study 173
Yi Zhang and Jing Zhang
PROCESSING AND PERFORMANCE OF MATERIALS USING MICROWAVES, ELECTRIC, AND MAGNETIC FIELDS
Rapid Synthesis of Nanostructured Titanium Boride (TiB) by Electric Field Activated Reaction Sintering 187
K. S. Ravi Chandran, A P. Sandersand, and J. Du
Verification of Effects of Alternative Electromagnetic Treatment on Control of Biofilm and Scale Formation by a New Laboratory Biofilm Reactor 199
Hideyuki Kanematsu, Senshin Umeki, Nobumitsu Hirai, Yoko Miura, Noriyuki Wada, Takeshi Kougo, Kazuyuki Tohji, Hirokazu Otani, Kazuhiko Okita, and Toshifumi Ono
Microwave Assisted Sintering of Cold Iso-Statically Pressed Titanium 6-4 Powder Compacts 213
B. Y. Rock, M. A. Imam, and T. F. Zarah
Microwave Heating of Ensembles of Spherical Metal Particles Surrounded by Insulating Layers 223
K. I. Rybakov and V. E. Semenov
Sintering of Oxide Ceramics under Rapid Microwave Heating 233
Yu. V. Bykov, S. V. Egorov, A. G. Eremeev, V. V. Kholoptsev, I. V. Plotnikov, K. I. Rybakov, and A. A. Sorokin
Roles of Electromagnetically-Enhanced Free Energy on Non-Thermal Microwave Effects in Materials Processing—A Review and Discussion 243
Boon Wong
Thermal Stability of Electromagnetic Compressed FL-5305 PM Parts 261
Daudi R. Waryoba
ADVANCES IN COMPOSITES
A New Production Process for Thermal Barrier Coating Material 273
Yunsheng Wang, Wenzhong Tao, Decheng Pan, and Zuxiong Chen
Simultaneous Synthesis and Sintering of Dense B4C/CNF Composites using a Pulsed Electric-Current Pressure Sintering and Evaluation of Their Thermal Properties 279
Naoki Goto, Mitsuhiro Shima, Xiaolei Chen, Masaki Kato, Ken Hirota, and Toshiyuki Nishimura
INNOVATIVE PROCESSING
Advanced Microstructural Study of Nickel-Titanium Rotary Endodontic Instrument Tips 295
Rahnuma Chowdhury, Matthew R. Wheeler, William A. T. Clark, William A. Brantley, and John M. Nusstein
Synthesis of TiC-TiB2 Composite Powders from Carbon Coated TiO2 Precursors 301
Zhezhen Fu and Rasit Koc
Nickel Nitrate and Molybdenum Oxide as a Yttria-Stabilized Zirconia Synergistic Sintering Aid 313
Clay Hunt, David Driscoll, Adam Weisenstein, and Stephen Sofie
SURFACE PROTECTION FOR ENHANCED PERFORMANCE
Modeling and Prediction of the Effective Thermal Conductivity of Thermal Barrier Coatings using FFT and FE Approaches 327
N. Ferguen, Y. Lahmar, Y. Fizi, and R. Lakhdari
Material Design of Ceramic Coating for Jet Engine by Electron Beam PVD 337
Hideaki Matsubara
CERAMIC OPTICAL MATERIALS
Novel Glass and Glass Scintillators for Gamma-Ray and Neutron Detection 343
Tapan K. Gupta, William Rhodes, Matthew M. Hall, Sean Breed, Urmila Shirwadkar, Michael R. Squillante, and Kanai S. Shah
Praseodymium-Doped SiAlON Red Phosphors Prepared by Polymer-Derived Method 351
Hui Yu, Quan Li, Ying Zhang, Xuan Cheng, and Chaoyang Gong
ALUMINA MATERIALS
Alumina Insulators for High Voltage Automotive Ignition Systems 361
William J. Walker, Jr.
THERMAL PROTECTION MATERIALS AND SYSTEMS
Photogrammetric Surface Recession Measurements on Ablative Samples of Various Shape 373
Thomas Reimer, Stefan Löhle, and Rainer Öfele
Author Index 387