Prodrugs and Targeted Delivery: Towards Better ADME Properties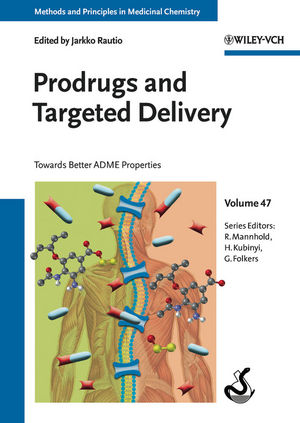 Prodrugs and Targeted Delivery: Towards Better ADME Properties
ISBN: 978-3-527-63318-0
Jan 2011
520 pages
Description
This topical reference and handbook addresses the chemistry, pharmacology, toxicology and the patentability of prodrugs, perfectly mirroring the integrated approach prevalent in today's drug design. It summarizes current experiences and strategies for the rational design of prodrugs, beginning at the early stages of the development process, as well as discussing organ- and site-selective prodrugs.
Every company employing medicinal chemists will be interested in this practice-oriented overview of a key strategy in modern drug discovery and development.

List of Contributors.
Preface.
A Personal Foreword.
Part One Prodrug Design and Intellectual Property.
1 Prodrug Strategies in Drug Design (Jarkko Rautio).
1.1 Prodrug Concept.
1.2 Basics of Prodrug Design.
1.3 Rationale for Prodrug Design.
1.4 History of Prodrug Design.
1.5 Recently Marketed Prodrugs.
1.6 Concluding Remarks.
References.
2 The Molecular Design of Prodrugs by Functional Group (Victor R. Guarino).
2.1 Introduction.
2.2 The Prodrug Concept and Basics of Design.
2.3 Common Functional Group Approaches in Prodrug Design.
2.4 Conclusions.
References.
3 Intellectual Property Primer on Pharmaceutical Patents with a Special Emphasis on Prodrugs and Metabolites (Eyal H. Barash).
3.1 Introduction.
3.2 Patents and FDA Approval Process.
3.3 Obtaining a Patent.
3.4 Conclusion.
Part Two Prodrugs Addressing ADMET Issues.
4 Increasing Lipophilicity for Oral Drug Delivery (Majid Y. Moridani).
4.1 Introduction.
4.2 pKa, Degree of Ionization, Partition Coefficient, and Distribution Coefficient.
4.3 Prodrug Strategies to Enhance Lipid Solubility.
4.4 Prodrug Examples for Antibiotics.
4.5 Antiviral Related Prodrugs.
4.6 Cardiovascular Related Prodrugs.
4.7 Lipophilic Prodrugs of Benzamidine Drugs.
4.8 Miscellaneous Examples.
4.9 Summary and Conclusion.
References.
5 Modulating Solubility Through Prodrugs for Oral and IV Drug Delivery (Victor R. Guarino).
5.1 Introduction.
5.2 Basics of Solubility and Oral/IV Drug Delivery.
5.3 Prodrug Applications for Enhanced Aqueous Solubility.
5.4 Challenges with Solubilizing Prodrugs of Insoluble Drugs.
5.5 Additional Applications of Prodrugs for Modulating Solubility.
5.6 Parallel Exploration of Analogues and Prodrugs in Drug Discovery (Commentary).
5.7 Conclusions.
References.
6 Prodrugs Designed to Target Transporters for Oral Drug Delivery (Mark S. Warren and Jarkko Rautio).
6.1 Introduction.
6.2 Serendipity: An Actively Transported Prodrug.
6.3 Requirements for Actively Transported Prodrugs.
6.4 Peptide Transporters: PEPT1 and PEPT2.
6.5 Monocarboxylate Transporters.
6.6 Bile Acid Transporters.
6.7 Conclusions.
References.
7 Topical and Transdermal Delivery Using Prodrugs: Mechanism of Enhancement (Kenneth Sloan, Scott C. Wasdo, and Susruta Majumdar).
7.1 Introduction.
7.2 Arrangement of Water in the Stratum Corneum.
7.3 A New Model for Diffusion Through the Stratum Corneum: The Biphasic Solubility Model.
7.4 Equations for Quantifying Effects of Solubility on Diffusion Through the Stratum Corneum.
7.5 Design of Prodrugs for Topical and Transdermal Delivery Based on the Biphasic Solubility Model.
7.6 Comparison of Human and Mouse Skin Experiments.
7.7 Summary.
References.
8 Ocular Delivery Using Prodrugs (Deep Kwatra, Ravi Vaishya, Ripal Gaudana, Jwala Jwala, and Ashim K. Mitra).
8.1 Introduction.
8.2 Criteria for an Ideal Ophthalmic Prodrug.
8.3 Anatomy and Physiology of the Eye.
8.4 Barriers to Ocular Drug Delivery.
8.5 Influx and Efflux Transporters on the Eye.
8.6 Transporter-Targeted Prodrug Approach.
8.7 Drug Disposition in Ocular Delivery.
8.8 Effect of Physiochemical Factors on Drug Disposition in Eye.
8.9 Prodrug Strategy to Improve Ocular Bioavailability (Nontransporter-Targeted Approach).
8.10 Recent Patents and Marketed Ocular Prodrugs.
8.11 Novel Formulation Approaches for Sustained Delivery of Prodrugs.
8.12 Conclusion.
References.
9 Reducing Presystemic Drug Metabolism (Majid Y. Moridani).
9.1 Introduction.
9.2 Presystemic Metabolic Barriers.
9.3 Prodrug Approaches to Reduce Presystemic Drug Metabolism.
9.4 Targeting Colon.
9.5 Targeting Lymphatic Route.
9.6 Conclusion.
References.
10 Enzyme-Activated Prodrug Strategies for Site-Selective Drug Delivery (Krista Laine and Kristiina Huttunen).
10.1 Introduction.
10.2 General Requirements for Enzyme-Activated Targeted Prodrug Strategy.
10.3 Examples of Targeted Prodrug Strategies.
10.4 Summary.
References.
11 Prodrug Approaches for Central Nervous System Delivery (Quentin R. Smith and Paul R. Lockman).
11.1 Blood–Brain Barrier in CNS Drug Development.
11.2 Prodrug Strategies.
11.3 Prodrug Strategies Based Upon BBB Nutrient Transporters.
11.4 Prodrug Strategies Based Upon BBB Receptors.
11.5 CNS Prodrug Summary.
References.
12 Directed Enzyme Prodrug Therapies (Dan Niculescu-Duvaz, Gabriel Negoita-Giras, Ion Niculescu-Duvaz, Douglas Hedley, and Caroline J. Springer).
12.1 Introduction.
12.2 Theoretical Background of DEPT.
12.3 Comparison of ADEPT and GDEPT.
12.4 Enzymes in ADEPT and GDEPT.
12.5 Design of Prodrugs.
12.6 Strategies Used for the Improvement of DEPT Systems.
12.7 Biological Data for ADEPT and GDEPT.
12.8 Conclusions.
References.
Part Three Codrugs and Soft Drugs.
13 Improving the Use of Drug Combinations Through the Codrug Approach (Peter A. Crooks, Harpreet K. Dhooper, and Ujjwal Chakraborty).
13.1 Codrugs and Codrug Strategy.
13.2 Ideal Codrug Characteristics.
13.3 Examples of Marketed Codrugs.
13.4 Topical Codrug Therapy for the Treatment of Ophthalmic Diseases.
13.5 Codrugs for Transdermal Delivery.
13.6 Codrugs of L-DOPA for the Treatment of Parkinson.s Disease.
13.7 Analgesic Codrugs Containing Nonsteroidal Anti-Inflammatory Agents.
13.8 Analgesic Codrugs of Opioids and Cannabinoids.
13.9 Codrugs Containing Anti-HIV Drugs.
References.
14 Soft Drugs (Paul W. Erhardt and Michael D. Reese).
14.1 Introduction.
14.2 Indications.
14.3 Design Considerations.
14.4 Case Study: The Discovery of Esmolol.
14.5 Summary.
References.
Part Four Preclinical and Clinical Consideration for Prodrugs.
15 Pharmacokinetic and Biopharmaceutical Considerations in Prodrug Discovery and Development (John P. O.Donnell).
15.1 Introduction.
15.2 Understanding Pharmacokinetic/Pharmacodynamic Relationships.
15.3 Pharmacokinetics.
15.4 Tools for the Prodrug Scientist.
15.5 Enzymes Involved with Prodrug Conversion.
15.6 Use of the Caco-2 System for Permeability and Active Transport Evaluation.
15.7 XP13512: Improving PK Performance by Targeting Active Transport.
15.8 Prodrug Absorption: Transport/Metabolic Conversion Interplay.
15.9 Preabsorptive Degradation.
15.10 Biopharmaceutical-Based PK Modeling for Prodrug Design.
15.11 Conclusions.
References.
16 The Impact of Pharmacogenetics on the Clinical Outcomes of Prodrugs (Jane P.F. Bai, Mike Pacanowski, Atiqur Rahman, and Lawrence L. Lesko).
16.1 Introduction.
16.2 Clopidogrel and CYP2C19.
16.3 Codeine and CYP2D6.
16.4 Tamoxifen and CYP2D6.
16.5 Fluorouracil Prodrugs and Carboxylesterase.
16.6 Irinotecan and Carboxylesterase 2.
16.7 Others.
16.8 Drug Development Implication.
16.9 Conclusions.
References.
Index.
"The book captures all the important aspects of prodrugs. It is well organized in that each chapter presents a specific topic with very little duplication of contents between chapters . . . Given the fact that prodrugs are now increasingly integrated into early drug discovery, this type of book would be a valuable addition to the library of any drug discovery institution." (Journal of Medicinal Chemistry, 8 August 2011)
"Every company employing medicinal chemists will be interested in this practice-oriented overview of a key strategy in modern drug discovery and development." (Pharmiweb, 16 February 2011)