Professional ASP.NET 2.0 AJAX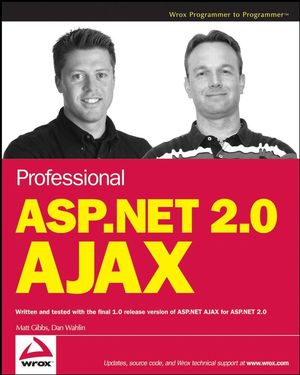 Professional ASP.NET 2.0 AJAX
ISBN: 978-0-470-10962-5
Jun 2007
336 pages
Product not available for purchase
Description
ASP.NET 2.0 AJAX is Microsoft's Ajax tool for ASP.NET developers and this book covers the ASP.NET 2.0 AJAX final release. You'll learn how to use the ASP.NET 2.0 AJAX features in order to create richer, more responsive dynamic Web sites. The book walks you through examples for each featured element, demonstrating how the client and server interact to produce a better Web application, and reviews such topics as client framework, script manager control, networking stack, application services, partial page updates, control extenders, client form elements, and client behaviors.
Acknowledgments.
Introduction.
Chapter 1: Developing Next-Generation Web Applications.
Chapter 2: Partial Page Updates.
Chapter 3: JavaScript for the ASP.NET Developer.
Chapter 4: Understanding the ASP.NET AJAX Client Library.
Chapter 5: Using the ScriptManager.
Chapter 6: ASP.NET AJAX Networking.
Chapter 7: ASP.NET AJAX Application Services.
Chapter 8: Rich AJAX Toolkit Controls.
Chapter 9: Testing and Debugging ASP.NET AJAX Applications.
Chapter 10: Deploying ASP.NET AJAX Applications.
Chapter 11: Building Custom Controls.
Index.
All sample code from book
Updated 10/22/07 - WinZip file containing individual zip files for each chapter of the book with code.
Download
Chapter
Page
Details
Date
Print Run
3
56
Error in Text,paragraph at bottom of page, near middle of paragraph:
javascript.options.script

should be:
javascript.options.strict
09/20/07
3
67
Error in Code,Listing 3-18

8th line of code on the page
AND
9th line of code from the end of the code listing are extraneous duplicate lines and can be deleted:

delete the second <script type="text/javascript ">

delete the second </script>
09/20/07
76
Error in Code,Type.registerNamespace('Wrox.ASPAJAX.Samples.Album');

Should be:

Type.registerNamespace('Wrox.ASPAJAX.Samples');
08/02/2007
4
80
Error in Code,listing 4-8, 3rd line from end: end of code line

get_artist ));

should be:

get_artist );
10/22/2007
5
120
Error in Code,code block in middle of page
<system.web.extensions>
<authenticationService enabled= true />
</system.web.extensions>

should be:
<system.web.extensions>
<scripting>
<webServices>
<authenticationService enabled= true />
</webServices>
</scripting>
</system.web.extensions>
09/20/07
9
231
Error in WebAddress,www.fiddler-tool.com

should be:

www.fiddlertool.com
12/06/2007