Professional ASP.NET 3.5 AJAX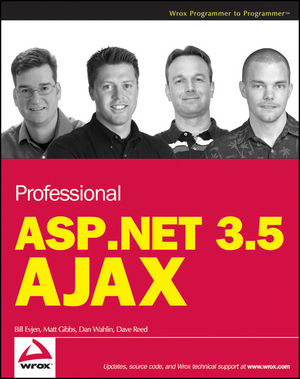 Description
This book is aimed at experienced ASP.NET developers looking to add AJAX to their applications, and experienced Web developers who want to move to using ASP.NET and AJAX together. The focus here is on how you can extend ASP.NET applications to update portions of the page asynchronously and to add richer UI elements to a page. ASP.NET AJAX makes it easy to enrich your existing application or to design a new application to provide a better experience for users. The differences among modern browsers have been abstracted, allowing you to write to a common set of APIs and trust that the user will get the correct behavior whether they are using Internet Explorer, Firefox, or Safari.
This book covers ASP.NET 3.5 AJAX but not ASP.NET 3.5, on which ASP.NET AJAX is built. The examples lead you from the core of what is included in the ASP.NET AJAX Library through the core controls you would first start using. You build on that using the core JavaScript library and the ASP.NET AJAX Toolkit.
Detailed coverage includes:
how ASP.NET AJAX compares to other AJAX libraries and how you can use the client library with any server platform you choose
the UpdatePanel control that allows you to automatically update portions of a page asynchronously without a visible pause while the page refreshes
working with JavaScript and how the ASP.NET AJAX Library makes development with JavaScript easier
control of script resources and working with the ScriptManager control
the ASP.NET 3.5 ability to work with the back button
the ASP.NET AJAX Toolkit and all it has to offer for creating rich user interfaces
how to use ASP.NET's services and core features such as the Membership and Role management systems,  Web Parts, localization, and state management with ASP.NET AJAX
networking objects, animations, custom AJAX controls
testing, debuging, and deploying ASP.NET Ajax applications
Introduction.
Chapter 1: Overview of AJAX.
Why AJAX Applications Are Needed.
Bringing Richness to Web Applications.
Who Benefits from AJAX?
Technologies of AJAX.
AJAX Libraries.
Creating a Simple Web Page with AJAX.
The Power of AJAX.
Summary.
Chapter 2: ASP.NET 3.5 and AJAX.
ASP.NET 3.5 Brings a Lot to the Table.
ASP.NET AJAX Applications.
ASP.NET AJAX's Server-Side Controls.
Using Multiple UpdatePanel Controls.
The Client-Side Page Request Lifecycle.
Canceling a Request.
Detecting Errors.
Working with Updates.
Summary.
Chapter 3: JavaScript for the ASP.NET Developer.
Variable Types in JavaScript.
Language Anomalies.
Scoping Variables.
Using Prototypes.
Close on Closures.
Evaluating eval().
Handling Exceptions.
Getting Parts of a String.
Better JavaScript.
Summary.
Chapter 4: Understanding the ASP.NET AJAX Client Library.
The Browser Page Lifecycle.
Using the Type System.
Base Class Library.
Supporting IntelliSense.
Errors and Debugging.
The Browser Object.
The Sys Namespace.
Summary.
Chapter 5: The ScriptManager.
The Ubiquitous ScriptManager.
ASP.NET Application Services.
Error Handling.
Customizing the Location of Scripts.
Script Combining.
Summary.
Chapter 6: Controlling the Back Button.
The Document Fragment Indicator.
Sample Application.
Enabling Partial Updates.
Adding History Support.
State Encoding.
Managing History Client-Side.
Client-Side Updates.
Adding History Support.
Deep Linking.
Summary.
Chapter 7: The ASP.NET AJAX Toolkit.
Downloading and Installing.
The ASP.NET AJAX Controls.
ASP.NET AJAX Control Toolkit Extenders.
ASP.NET AJAX Control Toolkit Server Controls.
Summary.
Chapter 8: Services.
Authenticating Users.
Managing User Roles.
Summary.
Chapter 9: ASP.NET AJAX Networking.
The XMLHttpRequest Object.
Making WebRequest Calls.
Managing Web Requests.
Passing Data.
Summary.
Chapter 10: Working with Animations.
Working with the Animation Control.
Examples of Animation Actions.
Summary
Chapter 11: Building Custom Controls.
Building Client-Side ASP.NET AJAX Controls.
Building a Server-Side ASP.NET AJAX Control.
Summary.
Chapter 12: Web Parts.
Introducing Web Parts.
Building a Web Parts Page without AJAX.
Understanding Postbacks with Web Parts.
Adding AJAX to the Web Parts Page.
Building a Custom Web Part with AJAX.
Summary.
Chapter 13: Localization.
What Is Localization?
Cultures and Regions.
Server-Side versus Client-Side Localization.
Client-Side Culture Details.
ASP.NET 3.5 Resource Files.
Looking at the Resource Editor.
Script Localization with Static Files.
Embedding JavaScript Files.
Summary.
Chapter 14: State Management.
Understanding State in .NET.
Understanding Sessions.
Using the Application Object.
Using Cookies.
Using ViewState.
State Management and ASP.NET AJAX.
Summary.
Chapter 15: Testing and Debugging ASP.NET AJAX Applications.
Debug and Release Scripts.
Using the Error Class.
Using the Sys.Debug Class.
Enabling Internet Explorer for Debugging.
Viewing ASP.NET AJAX Request and Response Messages.
Summary.
Chapter 16: Deploying ASP.NET AJAX Applications.
Installing the Bits.
ASP.NET AJAX.
Preparing for Web Farm Deployment.
Using a Different Platform.
Avoiding Common Configuration Problems.
Creating Web Deployment Projects.
After Deployment.
Using Compression for Scripts.
SummaryAppendix A: ASP.NET AJAX Resources.
Index.