Professional ASP.NET 3.5 SP1 Edition: In C# and VB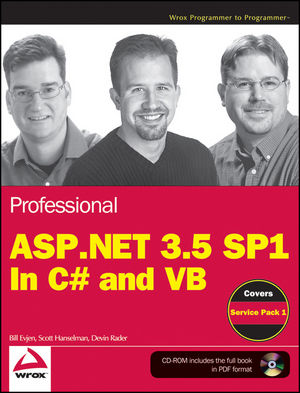 Description
Professional ASP.NET 3.5 SP1 In C# and VB
ASP.NET 3.5 brings the power of Visual Studio 2008 along with the multitude of language improvements in C# 2008 and Visual Basic 2008 as well as powerful new technology called LINQ, together with the ASP.NET 2.0 Framework you already know and love. Packed with valuable coverage of ASP.NET 3.5 SP1, this essential resource offers both C# and VB examples throughout the book, and shares new and updated content on the ADO.NET Entity Framework, ADO.NET Dynamic Data, and ADO.NET Data Services.
While ASP.NET 3.5 boasts server controls like the ListView and the incredibly flexible GridView, it also includes advancements in AJAX technology combined with JavaScript debugging features in Visual Studio 2008. With this book, a stellar author team covers the new controls in the AJAX toolbox, the back button history, and script combining, and they also examine the new capabilities of WCF including changes to DataContractSerializer. In addition, the accompanying CD-ROM features the entire book in PDF format.
What you will learn from this book
The concepts underlying the server control and its pivotal role in ASP.NET development

How to create templated ASP.NET pages using the master page feature

How to work with data from enterprise databases including SQL Server

Ways to debug, package, and deploy ASP.NET applications, monitor their health and performance, and handle errors

How to retrieve, update, and delete data quickly and logically using LINQ with side-by-side examples comparing LINQ to existing techniques

Ways to localize your web site in multiple languages for a world-wide audience

Methods for adding AJAX capabilities to your ASP.NET applications

The many benefits of the new data access additions

Ways to use and extend the Provider Model for accessing data stores, processes, and more

What freeware tools you need in Scott Hanselman's ASP.NET Ultimate Developer Tools appendix
Who this book is for
This book is for programmers and developers who are looking to make the transition to ASP.NET 3.5 SP1 with Visual Studio 2008 and either C# 3.0 (2008) or Visual Basic 9 (2008).
CD-ROM includes the full book in PDF format and a selection of 7 Wrox Blox mini e-books including:
Internet Explorer 8 and Its Impact on Your ASP.NET Web Sites

Jumping from ASP.NET to Silverlight 2

Leverage LINQ in ASP.NET 3.5 Projects
Note: CD-ROM/DVD and other supplementary materials are not included as part of eBook file.
Chapter 1: Application and Page Frameworks.
Chapter 2: ASP.NET Server Controls and Client-Side.
Chapter 3: ASP.NET Web Server Controls.
Chapter 4: Validation Server Controls.
Chapter 5: Working with Master Pages.
Chapter 6: Themes and Skins.
Chapter 7: Data Binding in ASP.NET 3.5.
Chapter 8: Data Management with ADO.NET.
Chapter 9: Querying with LINQ.
Chapter 10: Working with XML and LINQ to XML.
Chapter 11: IIS7.
Chapter 12: Introduction to the Provider Model.
Chapter 13: Extending the Provider Model.
Chapter 14: Site Navigation.
Chapter 15: Personalization.
Chapter 16: Membership and Role Management.
Chapter 17: Portal Frameworks and Web Parts.
Chapter 18: HTML and CSS Design with ASP.NET.
Chapter 19: ASP.NET AJAX.
Chapter 20: ASP.NET AJAX Control Toolkit.
Chapter 21: Security.
Chapter 22: State Management.
Chapter 23: Caching.
Chapter 24: Debugging and Error Handling.
Chapter 25: File I/O and Streams.
Chapter 26: User and Server Controls.
Chapter 27: Modules and Handlers.
Chapter 28: Using Business Objects.
Chapter 29: ADO.NET Entity Framework.
Chapter 30: ASP.NET Dynamic Data.
Chapter 31: Building and Consuming Services.
Chapter 32: ADO.NET Data Services.
Chapter 33: Localization.
Chapter 34: Configuration.
Chapter 35: Instrumentation.
Chapter 36: Administration and Management.
Chapter 37: Packaging and Deploying ASP.NET Applications.
Appendix A: Migrating Older ASP.NET Projects.
Appendix B: ASP.NET Ultimate Tools.
Appendix C: Silverlight 2 and ASP.NET.
Appendix D: ASP.NET Is Greater Than ASP.NET MVC.
Appendix E: ASP.NET Online Resources.
Index.