Professional Adobe Flex 2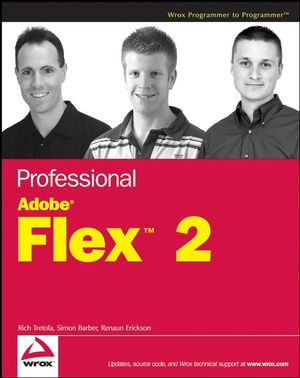 Description
Wrox's Professional Flex 2 is one of the first guides to Adobe's (Macromedia's) new web application development platform. Flex experts Simon Barber, Rich Tretola and John Bennett share their experience with Flex 2, and teach readers how to leverage the platform to build rich internet applications. Professional Flex 2 relies heavy on practical examples, making this a hands-on guide that will get readers up and running with Flex 2 quickly.

Topics include:
Building applications with Flex Builder
Flex programming model
Using Actionscript 3.0
Developing applications in MXML
Creating UIs with Flex controls and containers
Data access and interconnectivity
Creating custom flex components
Charting
Testing, debugging and deploying Flex applications
and more
Acknowledgments.
Introduction.
Part I: Getting Started.
Chapter 1: Introducing Flex 2.0.
Chapter 2: Introducing Flex Builder 2.0.
Chapter 3: Flex 2.0 Basics.
Chapter 4: Using Flex Builder 2.0.
Part II: Developing in Flex 2.0.
Chapter 5: Programming Languages.
Chapter 6: Building User Interfaces.
Chapter 7: Customizing the User Interface.
Chapter 8: Flex UI Topics.
Chapter 9: Flex Data.
Chapter 10: Flex Charting.
Chapter 11: Data Access.
Part III: Creating and Extending Flex Components.
Chapter 12: Creating MXML Components.
Chapter 13: Flex Component Properties.
Chapter 14: Flex Components.
Chapter 15: Custom Formatter, Validator, and Effect Components.
Part IV: Programming ActionScript 3.0.
Chapter 16: Overview of ActionScript Programming.
Chapter 17: Data Types and Classes.
Part V: Building and Deploying Flex 2.0 Applications.
Chapter 18: Building and Deploying Flex Applications.
Chapter 19: Debugging and Testing.
Chapter 20: Deploying Flex Applications.
Part VI: Advanced Flex 2.0.
Chapter 21: Using the Cairgorm Framework.
Chapter 22: Using the Flex-Ajax Bridge.
Chapter 23: Using the ActionScript 3.0 Libraries.
Chapter 24: Using ColdFusion/Flex Connectivity.
Part VII: Integration Techniques.
Chapter 25: Rich Media Integration.
Chapter 26: Integration with External Applications.
Appendix A. Flex 2.0.1.
Index.
Chapter
Page
Details
Date
Print Run
76
Error in Code,childChildByName

should be:

getChildByName
07/19/2007
115
Error in Code,myCursor.firstLast( NY )
myCursor.firstLast({label: NY , data: NewYork )

should be

myCursor.findLast( NY )
myCursor.findLast({label: NY , data: NewYork )
06/21/2007
184
Error in Code,( ExternalInterfaceSample ).callFromJavascript(document.form1.valueForFlex.value);

should be:

thisMovie( ExternalInterfaceSample ).callFromJavascript(document.form1.valueForFlex.value);
07/16/2007
293
Error in Text, Should you then create new components called MonthsByName, MonthsByNumber, and MonthsByAbr? he answer is no...

Mistyped T - should be:

The answer is no...
07/17/2007
306
Error in Text, For example, if you name your class UCaseTextInput.as, the class name must be defined as UCaseTexInput.

should be:

if you name your file UCaseTextInput.as ...
07/17/2007
382
Error in Code,var myBitmap = new logoClass(); // new image();
or in page 381 name the private var image:Class; to logoClass
07/20/2007
648
Error in Appendix A,Under Documenting the Logger Class, Step 4 is listed as Copy the following files from Chapter 19 and Chapter 27 into...

Instead of Chapter 27, it should be Chapter 26.
1/29/09