Professional C#, 2nd Edition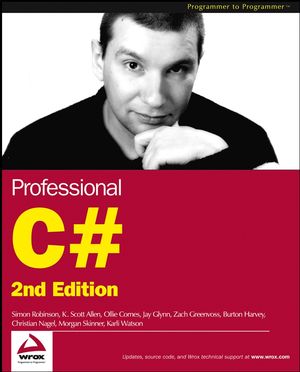 Professional C#, 2nd Edition
ISBN: 978-0-764-54398-2
Mar 2002
1272 pages
Product not available for purchase
Description
What is this book about?
It is no exaggeration to describe the C# language and its associated environment, the .NET Framework, as the most important new technology for developers in many years. .NET provides a new environment within which you can develop almost any Windows-based or web-based application, while C# is a new programming language designed specifically to work with .NET.
What does this book cover?
This book is the ideal introduction to the C# language and the .NET Framework, and will become an indispensable companion for any user of C# and .NET. With this book, you learn the key concepts of the C# language, and then progress onto a complete exploration of programming the .NET Framework with C#. Topics covered include the following:
How to program in the object-oriented C# language
Writing Windows applications and Windows services
Writing web pages and web services with ASP.NET
Manipulating XML using C#
Understanding .NET Assemblies
Using ADO.NET to access databases
Integration with COM, COM+, and Active Directory
Distributed applications with .NET Remoting
Generating graphics using C#
Accessing files and the Registry, and controlling .NET security
Introduction.
Chapter 1: C# and .NET Architecture.
Chapter 2: C# Basics.
Program Structure.
Chapter 3: Object-Oriented C#.
Chapter 4: Advanced C# Topics.
Chapter 5: C# and the Base Classes.
Chapter 6: Programming in the .NET Environment.
Chapter 7: Windows Applications.
Chapter 8: Assemblies.
Chapter 9: Data Access with .NET.
Chapter 10: Viewing .NET Data.
Chapter 11: Manipulating XML.
Chapter 12: File and Registry Operations.
Chapter 13: Working with the Active Directory.
Chapter 14: ASP.NET Pages.
Chapter 15: Web Services.
Chapter 16: User Controls and Custom Controls.
Chapter 17: COM Interoperability.
Chapter 18: COM+ Services.
Chapter 19: Graphics with GDI+.
Chapter 20: Accessing the Internet.
Chapter 21: Distributed Applications with .NET Remoting.
Chapter 22: Windows Services.
Chapter 23:.NET Security.
Appendix A: Principles of Object-Oriented Programming.
Appendix B: C# Compilation Options.
Index.
| | |
| --- | --- |
| Download all code samples for this book | Download |
| Download code samples for chapters 1 to 12 and Appendix A | Download |
| Download code samples for chapters 13 to 23 | Download |
| Download the C# for VB6 developers appendix | Download |
| Download the C# for Java developers appendix | Download |
| Download the C# for C++ developers appendix | Download |
Chapter
Page
Details
Date
Print Run
25
Error in Text
Second paragraph under "Use of Attributes":

used in conjunction with reflection technology (described) in order...

Should be

used in conjunction with reflection technology (described on page 27) in order...
2/10/09

---

38
If you are a very experienced developer ....


If you are a very experienced developer in one of VB, C#, or Java, you should...

should read:

If you are a very experienced developer in one of VB, C++, or Java, you should...

05-Aug-02
1

---

77
Typo in Text
At the top of page 77:

"... even though we don't actual specify the size of the dimensions..."

should be

"... even though we don't actually specify the size of the dimensions..."
1/26/09

---

78
Typo in Text
Code in grey box:

// Declare a two-dimension jagged array of authors' names

Should read:

// Declare a two-dimensional jagged array of authors' names
1/26/09

---

130
For C++ programmers....


For C++ programmers : because primitive fields in C# are by default initialized by being zeroed out, whereas primitive fields in C++ are by default uninitialized, you may find that you don't need to write constructors in C# as often as you would in C++.

05-Jun-02
1

---

147
Readonly instance field


public DateTime CreationDate;

should be:

public readonly DateTime CreationDate;

05-Aug-02
1

---

157
Multiplying a vector....


Multiplying a vector by a scalar simply means multiplying each component by individually by the scalar...

should read:

Multiplying a vector by a scalar simply means multiplying each component individually by the scalar...

05-Aug-02
1

---

162
C++ developers should note...


C++ developers should note that indexers in C++ serve the same purpose...

should read:

C++ developers should note that indexers in C# serve the same purpose...

05-Aug-02
1

---

230
Obsolete attribute


The second Obsolete attribute has one of its parentheses in the wrong place. The correct code should be:

[Obsolete("The DisplayDebugMessage is obsolete. Use " +
"DisplayRunningMessage instead.", true)]

17-Jul-02
1

---

5
265
Chars from Strings


char char4 = message[4] Should read char char4 = message2[4] and that should return 'o' not 'a'

24-Jan-03
1

---

286
vectors.RemoveAt


ectors.RemoveAt(1);
should be
vectors.RemoveAt(1);

14-Nov-02
1

---

318
DisplayTypeInfo


The final if statement at the top of page 318 should read:

if (attribs2 != null)
09-Jul-02
1

---

323
Thread constructor


Thread does not have a constructor without parameters - at the top of page 323, the code should be rearranged to the following, so that the ThreadStart object is passed to the Thread constructor:

ThreadStart entryPoint = new ThreadStart(ChangeColorDepth);
Thread depthChangeThread = new Thread(entryPoint);
depthChangeThread.Name = "Depth Change Thread";
depthChangeThread.Start();

08-Jul-02
1

---

427
The Timer Control


The Elapsed and Click events of the Timer control mentioned on page 427 should in fact be the Tick event of the Timer control.

05-Jun-02
1

---