Professional CSS: Cascading Style Sheets for Web Design, 2nd Edition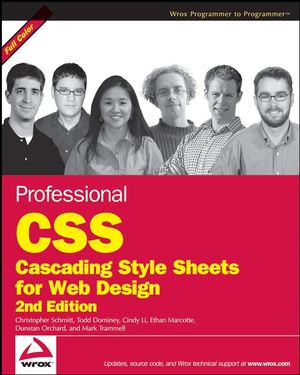 Description
Updated and revised to reflect changes to cascading style sheets (CSS) development procedures since the first edition was published, Professional CSS: Cascading Style Sheets for Web Design, 2nd Edition offers a hands-on look at designing standards-based, large-scale, professional-level CSS web sites. Understand designers' processes from start to finish and gain insight into how designers overcome a site's unique set of challenges and obstacles. Become comfortable with solving common problems, learn the best practices for using XHMTL with CSS, orchestrate a new look for a blog, tackle browser-compatibility issues and develop functional navigational structures.
1. Best Practices for XHTML and CSS.
2. Google's Blogger.com: Rollovers and Design Touches.
3. The Classic U.S. PGA Championship Web Site.
4. The University of Florida's UFL.edu.
5. Stuff and Nonsense Ltd.: Strategies for CSS Switching.
6. Adventures of CindyLi.com: Blog Modifications.
7. AIGA Cincinnati: HTML Email Templates.
8. Professional CSS Book Site: Using Transparent PNGs.
9. Building CSS Layouts.
Appendix A. HTML 4.01 Elements.
Appendix B. Rules for HTML-to-XHTML Conversion.
Appendix C. CSS 2.1 Properties.
Appendix D. CSS Troubleshooting Guide.
Index.
Chapter
Page
Details
Date
Print Run
21
Error in Code,In Class Selectors

input.box {

should be

input.text {
05/02/2011
29
Error in Text,In the paragraph after the code that starts 'According to the syntax...' 'or a generic sans-serif font'

should be read

'or a generic serif font'
05/02/2011
31
Error in Code,Code at the bottom of the page, 2nd line
< lia href=... >

should be read

< li >< a href=... >
05/02/2011
39
Error in Text,Listing 1-5 > calcul for first specificity ( for p { color: #300;...)

> /* A:0, B:0, C:1, D:1 = specificity of 0,0,0,1 */

should be read

> /* A:0, B:0, C:0, D:1 = specificity of 0,0,0,1 */
05/02/2011