Professional Cake Decorating, 2nd Edition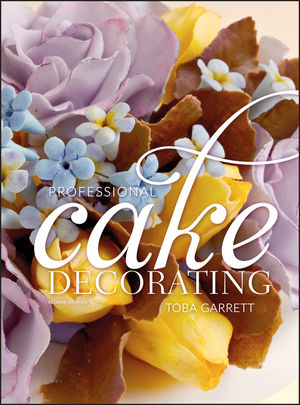 Professional Cake Decorating, 2nd Edition
ISBN: 978-0-470-38009-3
Jan 2012
416 pages
Description
Cake Decorating is a required course in the Baking and Pastry curriculum offered in proprietary colleges and two-year community colleges. Baking and pastry students take this course typically in the second year of their curriculum. Gisslen's Professional Baking, 3e serves the needs of the fundamental baking course. However, in Baking and Pastry programs, students are more focused on decorating and design. This underscores the need for a book with complete and detailed instructions on decorating methods and techniques.
Buy Both and Save 25%!
Original Price:$130.00
Purchased together:$97.50
save $32.50
Cannot be combined with any other offers.
ACKNOWLEDGMENTS v
INTRODUCTION viii
HISTORY OF CAKE DECORATING x
LESSON 1 getting started 1
EQUIPMENT
COVERING A CAKE BOARD
WORKING WITH COLOR
THE ART OF ICING A CAKE
ASSEMBLING A LAYERED CAKE
CRUMB-COATING AND ICING A CAKE
SPACKLING A CAKE
ICING A ROUND
CAKE WITH ROLLED FONDANT
ICING A SQUARE CAKE WITH ROLLED FONDANT
COVERING A CAKE WITH GANACHE
ROYAL ICING A MARZIPAN CAKE
STACKING CAKE TIERS
TIERS WITH COLUMNS OR PILLARS
LESSON 2 basic piping skills 35
PAPER CONES (CORNETS)
ICING PREPARATION
WARM-UP EXERCISES
PRACTICING BORDER SKILLS
STAR FLOWER
SMALL CLASSIC SHELLS
LARGE SHELLS
BALLOONING
ROSETTES
ZIGZAG
REVERSE SHELLS
FLEUR-DE-LIS
GARLANDS
ROPE
LEAVES
LESSON 3 floral piping skills 53
SKILLS CHECK
ICING
ROSEBUD
HALF-ROSE
FULL-BLOWN ROSES (TRADITIONAL TECHNIQUE)
FULL-BLOWN ROSES (NONTRADITIONAL TECHNIQUE)
LESSON 4 intermediate piping skills 63
ICING COMPONENTS
GRAPE CLUSTERS
SWEET PEA CLUSTERS
E SHELLS
CURVED SHELLS WITH SHELL ACCENTS
SHELLS WITH FLUTES
RUFFLES
SWAGS
BOWS
BASKET WEAVE
LESSON 5 advanced piping skills 77
PART I: ADVANCED OVERPIPED TOP AND BOTTOM BORDER DESIGNS
TOP BORDER—OVERPIPED SCALLOPS
BOTTOM BORDER—OVERPIPED GARLANDS (CRESCENTS) WITH SCALLOPS
TOP BORDER—SHORT OVERPIPED SCALLOPS
BOTTOM BORDER—RUFFLES WITH OVERPIPED SCALLOPS
TOP BORDER—SINGLE SWAGS WITH OVERPIPED SCALLOPS
BOTTOM BORDER—DOUBLE SWAGS WITH OVERPIPED SCALLOPS
TOP BORDER—REVERSE OVERPIPED SCALLOPS
BOTTOM BORDER—OVERPIPED GARLAND (CRESCENT) WITH RUFFLES AND REVERSE SCALLOPS
PART II: ADVANCED TOP AND BOTTOM BORDER DESIGNS
TOP BORDER—REVERSE SHELLS WITH SCALLOPED STRINGS
BOTTOM BORDER—ZIGZAGS WITH LARGE SHELLS AND SCALLOPS
TOP BORDER—LARGE SHELLS WITH OVERPIPED S SCROLLS
BOTTOM BORDER—SHELLS WITH SCALLOPS
TOP BORDER—GARLANDS WITH DOUBLE STRINGS AND DROP STRINGS
TOP BORDER—FLEUR-DE-LIS WITH OVERPIPING AND DROP STRINGS
BOTTOM BORDER—ROSETTES WITH DROP STRINGS
LESSON 6 the art of writing and painting 107
ALPHABET PRACTICE
WRITING ON AN ICED CAKE
WRITING ON A SUGAR PLAQUE
ALPHABET WRITING WORKSHOP
WRITING STYLES—SIMPLE BLOCK LETTERING
WRITING STYLES—ELEGANT LETTERING
HAND PAINTING
FOOD COLOR PAINTING
LESSON 7 royal icing piped fl owers 121
ORANGE, APPLE, CHERRY, AND PEACH BLOSSOMS, AND FORGET-ME-NOTS
PRIMROSES
VIOLETS
PANSIES
SWEET PEAS
DAISIES
PUSSY WILLOWS
LESSON 8 royal icing design skills 133
DESIGN TRANSFERS
DESIGN TRANSFER—THE PINPRICK METHOD
DESIGN TRANSFER—THE CARBON COPY METHOD
EMBROIDERY TECHNIQUES
BRUSH EMBROIDERY
FREEHAND EMBROIDERY
CORNELLI LACE AND SOTAS
SATIN-STITCH EMBROIDERY
SWISS DOTS
EYELET EMBROIDERY
LESSON 9 hand modeling skills 147
ORANGE
LEMON
BOSC PEAR
GRANNY SMITH APPLE
PEACH
APRICOT
STRAWBERRY
RASPBERRIES
PUMPKIN
MANGO
JALAPENO PEPPER
CARROT
BANANA
HEIRLOOM TOMATO
LESSON 10 marzipan and chocolate modeling 167
MARZIPAN MODELING
THE BRIDAL COUPLE
BABY MOUSE
FATHER PENGUIN
BEAR CHEF
KIDDY BEAR
CHOCOLATE MODELING
MODELING CHOCOLATE ROSE
CHOCOLATE BOW AND STREAMERS
LESSON 11 advanced royal icing piping and design skills 191
RUNOUTS OR FLOODING
BRIDGE AND EXTENSION WORK AND HAILSPOTTING
SIMPLE LACE DESIGNS
FILIGREE LACE DESIGNS
RING DESIGN WITH TRELLISWORK
LATTICE
CUSHION LATTICE
FLOATING COLLAR
LESSON 12 rolled icing design skills 215
RUFFLING
CLASSICAL DRAPERY
FREEHAND DRAPERY
APPLIQUÉ
BRAIDING
SMOCKING
RIBBON BOUQUET
TASSELS
CRIMPING
LESSON 13 pastillage construction 231
PASTILLAGE FIGURES
LESSON 14 gumpaste flowers 237
PLUNGER FLOWERS
PULLED BLOSSOMS AND BUDS
BASIC FIVE-PETAL BLOSSOM WITH BUD
FOUR-PETAL BLOSSOM WITH BUD
FORGET-ME-NOT
HYACINTH
MIMOSA
CHERRY BLOSSOM
FOLIAGE
FREEHAND LEAVES
CUTTER LEAVES
FLORAL CORSAGE
CORSAGE
LESSON 15 advanced gumpaste fl owers 257
CLASSIC ROSE
FULL-BLOWN OR OPEN ROSE
CARNATION
AZALEA
ARUM OR CALLA LILY
ANTHURIUM LILY
CLOSED TULIP WITH BUD
HIBISCUS
TIGER LILY
CYMBIDIUM ORCHID
ARRANGING A ROUND SPRAY
LESSON 16 miniature cakes and decorated cookies 283
PETITS FOURS
DECORATED COOKIES
LESSON 17 cake and confectionery gallery 293
LESSON 18 recipes 329
APPENDIX 1 PATTERNS AND CAKE CUTTING GUIDES 368
APPENDIX 2 MEASUREMENTS 386
BIBLIOGRAPHY 395
INDEX 396