Professional Content Management Systems: Handling Digital Media Assets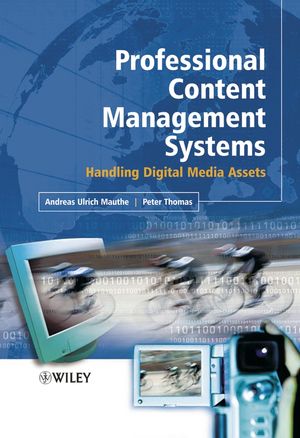 Professional Content Management Systems: Handling Digital Media Assets
ISBN: 978-0-470-85544-7 October 2005 330 Pages
Description
Content and Content Management are core topics in the IT and broadcast industry. However these terms have not been clearly defined for those learning the field. The topic is complex and users from different industries have different backgrounds and a varied understanding of content issues. Multimedia Content Management helps to clarify the subject area, define problematic issues and establish a universal understanding of content and its management.
* Provides clarity in the subject area
* Defines potential problems and establishes a universal understanding
* Builds an architectural framework upon this account and different aspects of the industry and solutions are reviewed
* Comprehensively describes the different users working and accessing content, the applications and workflows

Essential reading for students, engineers and technical managers, in the area of data, storage management and multimedia, requiring an overview of this complex topic. The topics discussed will also prove highly insightful for executive managers and media professionals with a technical understanding and broadcast executives in the field.
Preface.
1. Introduction.
2. Content-Related Workflows.
3. Essence.
4. Content Representation and Metadata.
5. File Formats.
6. Content Management.
7. Content Management System Infrastructure.
8. System and Data Integration in CMS.
9. Applications.
10. Future Trends.
References.
Acronyms.
Index.
"For  anyone working in this industry, the book is worth having as a long-term reference." (
Computing Reviews.com
, September 15, 2005)
"…the most complete work in this area…I recommend this book to students, engineers, and managers involved or interested in the handling and management of multimedia content." (Computing Reviews.com, September 16, 2005)