Professional Cooking, 7th Edition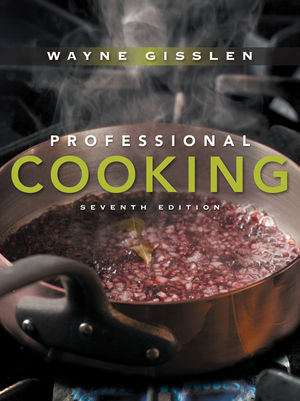 Professional Cooking, 7th Edition
ISBN: 978-0-470-19752-3
Jan 2010
1120 pages
Description
Study from the best for guaranteed career success! Wayne Gisslen's Professional Cooking has led the way as ""simply the best"" resource for new and practicing chefs! It is the best-selling undergraduate food preparation textbook in the marketplace.
With its clear and effective approach to mastering basic skills and concepts through understanding and practice, Professional Cooking has earned a permanent place in the lives of millions of chefs whose careers it has helped launch. Wayne Gisslen's reputation for being able to simply, yet comprehensively, communicate information to beginning chefs is unsurpassed.
This College Edition of Professional Cooking, Seventh Edition, includes CulinarE-Companion™ Recipe Management software, which is yours to download and keep. No subscriptions fees or temporary trial access—CulinarE-Companion gives you digital versions of all 1,300 recipes in the print text, plus 90 bonus recipes. With CulinarE-Companion you can:
Resize and edit recipes
Add and organize your own recipes and related content
Convert measurements from US to metric, and vice versa
Create shopping lists, and
Analyze the nutritional content of ingredients and recipes.
CulinarE-Companion also includes audio pronunciations and illustrated procedures for additional learning support. Once CulinarE-Companion is installed on your computer's hard drive, it's yours to keep and never expires!
Building on this text's hallmark features---simple and clear language, professional recipe format, instructional photo program, and understanding basic concepts to achieve mastery of essential skills, the Seventh Edition also features:
Enhanced visual program with over 220 new color photos, including plated dishes, procedures, and products.
Approximately 100 new recipes, for a total of 650 recipes plus another 600 variations.
More focus on international recipes and variations.
Enhanced topical coverage on such things as: food science, molecular gastronomy, international recipes, and culinary math.
Chapter 10, Understanding Meats, now includes all information on meat fabrication in one convenient place.
Buy Both and Save 25%!
Original Price:$269.90
Purchased together:$202.42
save $67.48
Cannot be combined with any other offers.
Buy Both and Save 25%!
Original Price:$211.90
Purchased together:$158.92
save $52.98
Cannot be combined with any other offers.
Recipe Contents.
Preface.
Chapter 1: The Food Service Industry.
Chapter 2: Sanitation and Safety.
Chapter 3: Tools and Equipment.
Chapter 4: Basic Principles of Cooking and Food Science.
Chapter 5: Menus, Recipes, and Cost Management.
Chapter 6: Nutrition.
Chapter 7: Mise en Place.
Chapter 8: Stocks and Sauces.
Chapter 9: Soups.
Chapter 10: Understanding Meats and Game.
Chapter 11: Cooking Meats and Game.
Chapter 12: Understanding Poultry and Game Birds.
Chapter 13: Cooking Poultry and Game Birds.
Chapter 14: Understanding Fish and Shellfish.
Chapter 15: Cooking Fish and Shellfish.
Chapter 16: Understanding Vegetables.
Chapter 17: Cooking Vegetables.
Chapter 18: Potatoes.
Chapter 19: Legumes, Grains, Pasta, and Other Starches.
Chapter 20: Cooking for Vegetarian Diets.
Chapter 21: Salad Dressings and Salads.
Chapter 22: Sandwiches.
Chapter 23: Hors d'Oeuvres.
Chapter 24: Breakfast Preparation.
Chapter 25: Dairy and Beverages.
Chapter 26: Sausages and Cured Foods.
Chapter 27: Pâtés, Terrines, and Other Cold Foods.
Chapter 28: Food Presentation and Garnish.
Chapter 29: Bakeshop Production: Basic Principles and Ingredients.
Chapter 30: Yeast Products.
Chapter 31: Quick Breads.
Chapter 32: Cakes and Icings.
Chapter 33: Cookies.
Chapter 34: Pies and Pastries.
Chapter 35: Creams, Custards, Puddings, Frozen Desserts, and Sauces.
Appendix 1: Metric Conversion Factors.
Appendix 2: Standard Can Sizes.
Appendix 3: Approximate Weight-Volume Equivalents of Dry Foods.
Appendix 4: Kitchen Math Exercises: Metric Versions.
Appendix 5: Eggs and Safety.
Bibliography.
Glossary and Cooking Vocabular.
Enhanced visual program includes over 200 new color photos, including plated dishes, procedures, and products 
Approximately 100 new recipes have been added, bringing the book's total recipes and variations to more than 1,200

More focus on international recipes and variations

Enhanced topical coverage on such things as: food science, molecular gastronomy, international recipes, and culinary math

Chapter 10 Understanding Meats now includes all information on meat fabrication in one convenient place

Up to date nutrition guidelines

Thoroughly revised and enhanced CulinarE-CompanionTM Recipe Management software contains all recipes from the book -- and 90 bonus recipes

Fully developed ancillary package including Instructor's Manual, Student Study Guide, computerized test bank (Respondus), PowerPoints, WileyPLUS, and enhanced Web site

New! Video clips depicting techniques and recipes covered within the text are now included as part of CulinarE-CompanionTM and WileyPLUS New video clips depicting techniques and recipes covered within the text
The clear market leading textbook in its field for more than 20 years
Contains more than 1,200 recipes, includes nutritional information or each
Flexible structure and organization makes the book easy to adapt to nearly any course of study
Recipes reinforce the basic skills the student is learning; in each case, specific recipes follow a discussion of theories, guidelines, and general procedures applicable to a defined category of foods and/or cooking methods