Professional Cooking, 9th Edition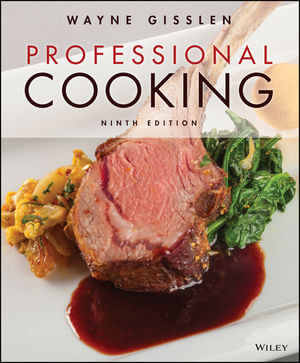 Professional Cooking, 9th Edition
Download Product Flyer
Download Product Flyer
Download Product Flyer is to download PDF in new tab. This is a dummy description. Download Product Flyer is to download PDF in new tab. This is a dummy description. Download Product Flyer is to download PDF in new tab. This is a dummy description. Download Product Flyer is to download PDF in new tab. This is a dummy description.
Description
The Ninth Edition of Professional Cooking reflects the changing nature of our understanding of cooking and related fields such as food safety, nutrition, and dietary practices, as well as new thinking about how best to teach this material. What has not changed is the core material that focuses on the essentials--the comprehensive understanding of ingredients and basic cooking techniques that are the foundation of success in the kitchen, and the development of manual skills to apply this knowledge.
Table of contents
1. The Food-Service Industry
2. Sanitation and Safety
3. Tools and Equipment
4. Menu, Recipes, and Cost Management
5. Nutrition
6. Basic Principles of Cooking and Food Science
7. Mise en Place
8. Stocks
9. Sauces
10. Soups
11. Understanding Vegetables
12. Cooking Vegetables
13. Potatoes
14. Legumes, Grains, Pasta, and Other Starches
15. Cooking Methods for Meat, Poultry, and Fish
16. Understanding Meats and Game
17. Cooking Meats and Game
18. Understanding Poultry and Game Birds
19. Cooking Poultry and Game Birds
20. Understanding Fish and Shellfish
21. Cooking Fish and Shellfish
22. Salad Dressings and Salads
23. Sandwiches
24. Hors D'Oeuvres
25. Breakfast Preparation
26. Dairy and Beverages
27. Cooking for Vegetarian Diets
28. Sausages and Cured Food
29. Pates, Terrines, and Other Cold Foods
30. Food Presentation
31. Bakeshop Production: Basic Principles and Ingredients
32. Yeast Products
33. Quick Breads
34. Cakes and Icings
35. Cookies
36. Pies and Pastries
37. Creams, Custards, Puddings, Frozen Desserts, and Sauces
Appendix 1: Metric Conversion Factors
Appendix 2: Standard Can Sizes
Appendix 3: Approximate Weight-Volume Equivalents of Dry Foods
Appendix 4: Kitchen Math Exercises: Metric Versions
Appendix 5: Eggs and Safety
New To This Edition
Technical information on food science topics have been expanded: including such subjects as emulsions, thickening agents, soluble components of protein foods, enzymatic browning, and changes in meat cells during cooking.

More cultural and historical background for international recipes and cooking practices has been added.

Each chapter has been reorganized with new headings to improve the flow of information and to better mesh with the electronic resources available with the text.

Chapter 8 has been reorganized into two separate chapters: on Stocks and Sauces, respectively.
New and current topics in the modern food industry are discussed, such as sustainable farming and other agricultural practices like organic and biodynamic farming, GMO's, and grass-fed livestock.
Expanded discussion of modernist cuisine, also called molecular gastronomy.
Better placement and highlighting of additional recipes available on CulinarE-Companion™.
Updating of baking recipes to be consistent with the latest edition of Professional Baking.
Features
CulinarE-Companion Recipe Management Software is a web-based database of recipes from Professional Cooking. With CulinarE-Companion, students can edit, scale, view nutritional information, convert from U.S. to metric measures and vice versa; print and share recipes. Users can also add their own recipes and create and revise shopping lists. The recipes in CulinarE-Companion have been updated to reflect the new recipes in the ninth edition.
Technique Videos: Nearly 200 technique videos that clearly demonstrate essential kitchen skills. These videos can be used for study prior to class or review afterward, or as a step-by-step demonstration before lab.
Math Tutor Videos: white-board type exercises and review are available as an additional study aid. These video-like segments are brief examples of common math problems found in the kitchen and are intended to demonstrate and reinforce math concepts—cited by instructors as the #1 issue students struggle with in this course.
Pronunciation Guides and Glossaries: Phonetic guides are included for difficult words, giving the approximate pronunciation using English sounds. Because food-service workers must be able to communicate with each other, definitions of terms introduced in the text are summarized in the glossary.
Enhanced E-Text offers students the complete content of the printed textbook on the device of their preference—computer, iPad, tablet, or smartphone—giving students the freedom to read or study anytime, anywhere.