Professional Cooking for Canadian Chefs, 6th Edition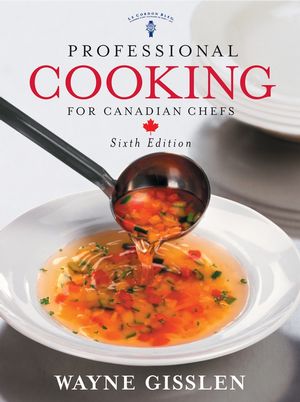 Professional Cooking for Canadian Chefs, 6th Edition
ISBN: 978-0-470-07656-9
Dec 2006
1056 pages
Product not available for purchase
Description
What's new in the Sixth Edition:
Over 100 new recipes—including an entire chapter on different types of vegetarian diets
Updated information on Canadian inspection and grading of meat, poultry, seafood, dairy products, and eggs
Expanded and updated information—featuring a contemporary look at presenting and garnishing and a detailed history of modern food service
Nearly 1,200 illustrations and photos—highlighting ingredients, step-by-step techniques, and plated dishes in splendid visual detail
Stunning new design—helpful sidebars and dedicated chapters on menus, recipes, and cost management; cooking with legumes, grains, and pastas; breakfast preparation; dairy; and beverages
New culinarE-Companion recipe management software that contains every recipe from the book
Recipe Contents.
About Le Cordon Bleu.
Foreword.
Preface.
Acknowledgments.
Chapter 1. The Food Service Industry.
Chapter 2. Sanitation and Safety.
Chapter 3. Tools and Equipment.
Chapter 4. Basic Cooking Principles.
Chapter 5. Menus, Recipes, and Cost Management.
Chapter 6. Nutrition.
Chapter 7. Mise en Place.
Chapter 8. Stocks and Sauces.
Chapter 9. Soups.
Chapter 10. Understanding Meats and Game.
Chapter 11. Cooking Meats and Game.
Chapter 12. Understanding Poultry and Game Birds.
Chapter 13. Cooking Poultry and Game Birds.
Chapter 14. Understanding Fish and Shellfish.
Chapter 15. Cooking Fish and Shellfish.
Chapter 16. Understanding Vegetables.
Chapter 17. Cooking Vegetables.
Chapter 18. Potatoes.
Chapter 19. Legumes, Grains, Pasta, and Other Starches.
Chapter 20. Cooking for Vegetarian Diets.
Chapter 21. Salads and Salad Dressings.
Chapter 22. Sandwiches.
Chapter 23. Hors D'Oeuvres.
Chapter 24. Breakfast Preparation.
Chapter 25. Dairy and Beverages.
Chapter 26. Sausages and Cured Foods.
Chapter 27. Pâtés, Terrines, and Other Cold Foods.
Chapter 28. Food Presentation and Garnish.
Chapter 29. Bakeshop Production: Basic Principles and Ingredients.
Chapter 30. Yeast Products.
Chapter 31. Quick Breads.
Chapter 32. Cakes and Icings.
Chapter 33. Cookies.
Chapter 34. Pies and Pastries.
Chapter 35. Creams, Custards, Puddings, Frozen Desserts, and Sauces.
Appendix 1: Metric Conversion Factors. 
Appendix 2: Standard Can Size.
Appendix 3: Approximate Weight-Volume Equivalents of Dry Foods.
Appendix 4: Kitchen Math Exercisesâ??Metric Versions.
Appendix 5: Eggs and Safety.
Bibliography.
Glossary.
U.S.â??U.K. Cooking Vocabulary.
French-English Cooking Vocabulary.
Subject Index.
Recipe Index.
100 new recipes—including an entire chapter on different types of vegetarian diets
Expanded and updated information—featuring a contemporary look at food presentation and garnish and a detailed history of modern food service
Nearly 1,200 illustrations—highlighting ingredients, step-by-step techniques, and plated dishes in splendid visual detail
Over 100 new photographs illustrate completed recipes, ingredients, and techniques to provide students with a reference outside of the classroom
Stunning new design—helpful sidebars and dedicated chapters on menus, recipes, cost management; cooking with legumes, grains, and pastas; breakfast preparation; dairy; and beverages
New recipe management software that contains every recipe from the book, and features a user friendly navigation, flexibility, and robust content
Completely revised, updated, and expanded vegetable chapters feature additional product identification and cooking techniques, as well as new recipes
The clear market leading textbook in its field for more than 20 years
Contains more than 1,200 recipes, each includes nutritional information for each
Flexible structure and organization makes the book easy to adapt to nearly any course of study
Recipes reinforce the basic skills the student is learning; in each case, specific recipes follow a discussion of theories, guidelines, and general procedures applicable to a defined category of foods and/or cooking methods