Professional Development: A Guide for Primary Care, 2nd Edition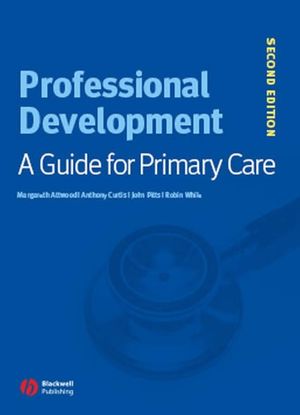 Professional Development: A Guide for Primary Care, 2nd Edition
ISBN: 978-1-405-17849-5
Apr 2008, Wiley-Blackwell
216 pages
Description
Invaluable workbook to help GPs and practice staff meet the requirements of continuing professional development (cpd)

General practitioners, like all other health professionals, need to keep up-to-date with the latest developments in medicine and education. They also need to respond to changing technology and changes in the delivery of care. The environment in which GPs work is extremely dynamic but this book helps to keep GPs up-to-date with these advancements and with their professional skills.

The Chief Medical Officer in the UK has recommended that the key to professional development is a Practice Professional Development Plan (PPDP) which, in turn, helps set objectives for individual GPs, the Personal Development Plan.

This workbook takes the mystery out of professional development by explaining how to use existing information to analyse strengths and weaknesses, priorities and needs, and to develop a plan that will improve working life on all levels and leading ultimately to improved patient care.

This book provides tangible methods for how to implement an abstract concept that is being foisted on busy professionals - a must read for every GP in the UK.

PART 1: GETTING STARTED
.
How to use this workbook .
The practice .
The patient.
The primary health care team .
.
PART 2: WHERE DO WE START.
The practice professional development plan .
Developing the primary health care team.
Skill mix of the primary health care team.
Appraisal.
Audit and research.
The practice professional development plan (PPDP).
PART 3: PERSONAL DEVELOPMENT PLAN .
Framework for personal development plans (PDP).
Methods of identifying educational needs.
Meeting educational and developmental needs .
.
Personal development plan.
Appendix 1: Confidentiality declaration.
Appendix 2: Websites.
References and further reading.
Index
Reviews of 1st Edition:

"I personally think this is an excellent publication encouraging us to look at professional development, dispelling fears and effectively guiding the reader through the process...I would give it 9 out of 10."
Glenn Richards, GP Trainers Course Book Reviews
"I like this book because it offers a simple solution to a future problem. I like it because it does not involve Balint, Pendleton or Neighbour. It has no mention of consultation analysis, the hidden agenda, the patient's ideas, concerns or expectations. I commend this book to you all."
Michael Wright, GP Trainers Course Book Reviews
"I was struck by the relevance of this book at this time of rapid change in primary care. 'It looks as though someone's done all the donkey work for us,' said our practice manager."
Henry Tegner, Doctor magazine in May 2002
A highly readable introduction to an area that GPs find difficult


This book helps to keep General Practitioners up-to-date with the latest developments in medicine

The Chief Medical Officer in the UK has recommended that the key to professional development is a Practice Professional Development Plan (PPDP) which, in turn, helps set objectives for individual GPs, the Personal Development Plan

Provision of tangible methods for how to implement an abstract concept that is being foisted on busy professionals - as such it should be read by every GP in the UK