Professional Development and Management for Therapists: An Introduction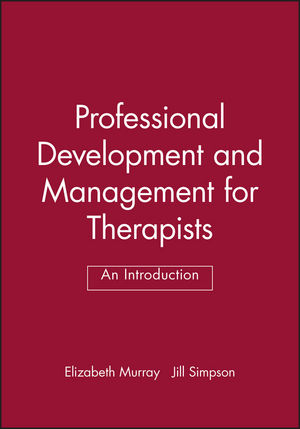 Professional Development and Management for Therapists: An Introduction
ISBN: 978-0-632-05107-6 January 2000 Wiley-Blackwell 160 Pages
Description
As a result of various changes within the healthcare sector and the NHS, working arrangements and environments for the Professions Allied to Medicine (PAMs) now vary across the UK. This book aims to identify and clarify management and career issues that impact the working lives of therapists and other PAMs. It is particularly targeted at students close to graduating and newly qualified or training grade therapists.
After an introductory overview, the book considers the organization of the NHS and how recent changes have impacted on therapy services. Further chapters include the background to the development of the PAMs, personnel issues and early career management. The book also considers the main legislation governing clinical practice, teamwork, multi-disciplinary working, continuing professional development and the roles of professional organizations. The final chapter considers the main areas of work outside the NHS.
Table of contents
Contributors.
Preface.
Acknowledgements.
Chapter 1 An Introduction: Working Life, Today's Health Service and Management. (E. Murray & J. Simpson).
Chapter 2 The Health-Care Business: An Overview. (P. Oakley, S. Burnard & H. Wilkinson).
Chapter 3 The Professions Allied to Medicine. (J. Standring).
Chapter 4 Getting Started in a Job. ( J. Simpson).
Chapter 5 Working with People. (V. Glenny).
Chapter 6 Legal Aspects of Clinical Practice. (P. Robinson).
Chapter 7 Aspects of Human Resource Management. (E. Murray).
Chapter 8 Career and personal Development. (P. Oakley, S. Burnard & H. Wilkinson).
Chapter 9 Professional Organisations. (P. Oakley, S. Burnard & H. Wilkinson).
Chapter 10 Working Outside the National Health Services. (J. Simpson & E. Murray).
Index.
Reviews
"This book targets students and newly-qualified therapists [and] its broad range of subjects - from getting a job and the legal aspects of clinical practice to dealing with difficult people - provides the perfect toolkit for the novice."
Therapy Weekly
"In addition to the intended target audience, the book is likely to be of interest to overseas-qualified therapists who are wishing to practice in the UK or who have just begun to work here."

"The book could be valuably housed in university libraries for use by therapy students nearing the end of their qualifying education. It would also provide a useful resource in trust or unit libraries for therapy staff."
Physiotherapy Frontline
Features
* factual information on the structure of the NHS
* practical advice on career planning and continuing professional development
* looks at the changing role of therapists within a multidisciplinary workforce
* applicable to all professions allied to medicine - final year therapists as well as qualified therapists who are thinking of applying for a new job