Professional Development for Youth Workers: New Directions for Youth Development, Number 104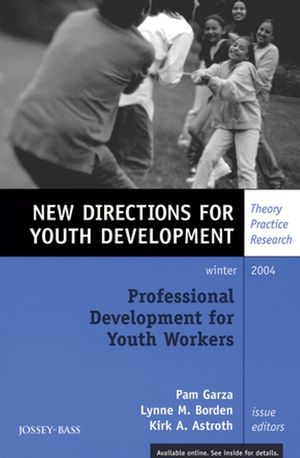 Professional Development for Youth Workers: New Directions for Youth Development, Number 104
ISBN: 978-0-787-97861-7
Feb 2005, Jossey-Bass
120 pages
Product not available for purchase
Description
Professional development of caring, capable adults who interact with and on behalf of youth is a key issue for youth organizations and agencies committed to creating environments that nurture young people's growth and transition into adulthood. This issue offers a glimpse of some of the innovated, sustained, and coordinated efforts to advance the preparation and support of youth workers based on the principles of positive youth development. Contributors provide examples demonstrating how to support youth work interaction as well as training networks that take common approaches to professional development and outline some of the significant challenges faced in youth worker professional development and their solutions.  From defining competencies for entry-level youth workers to case studies that explore the role of colleges and universities in professionalizing the field, this issue serves as a record of the evolution of the youth development field and a call for its continued progress in building a comprehensive system that can meet the needs of both youth workers and the young people they come into contact with each day.

This is the 104th volume of the quarterly report series New Directions for Youth Development.

Click here to view the entire catalog of New Directions for Youth Development titles.
Issue Editors' Notes (Pam Garza, Lynne M. Borden, Kirk A. Astroth).
Executive Summary.
1. Professional development in the youth development field: Issues, trends, opportunities, and challenges (Jane Quinn)
This chapter sets the context for the rest of the volume and provides a brief history of professional development in the youth development field.
2. Getting down to business: Defining competencies for entry-level youth workers (Kirk A. Astroth, Pam Garza, Barbara Taylor)
The authors describe the National Collaboration for Youth's development and endorsement of front-line worker competencies and discuss implications for the field.
3. Achieve Boston: A citywide innovation in professional development (Moacir Barbosa, Ellen S. Gannett, Jude Goldman, Samantha Wechsler, Gil G. Noam)
The authors explain how this citywide initiative has been able to coordinate intermediaries and training opportunities for youth workers.
4. The intermediary role in youth worker professional development: Successes and challenges (Elaine Johnson, Fran Rothstein, Jennifer Gajdosik)
The chapter explores the role of youth development training intermediaries and their successes and challenges in providing high-quality services.
5. Professional development in national organizations: Insights from Girls Incorporated (Heather Johnston Nicholson, Susan Houchin, Brenda Stegall)
Girls Incorporated takes a comprehensive approach to professional development for youth development workers.
6. Professionalizing youth development: The role of higher education (Lynne M. Borden, Deborah L. Craig, Francisco A. Villarruel)
Two case studies are highlighted—a community college and an online master's and certificate program—to explore the role of colleges and universities in professional development.
7. Reflections on the road not (yet) taken: How a centralized public strategy can help youth work focus on youth (Karen J. Pittman)
The author explores how the definition of youth work in the United Kingdom pushes far beyond the youth work field in the United States.
Index.