Professional Dining Room Management, 2nd Edition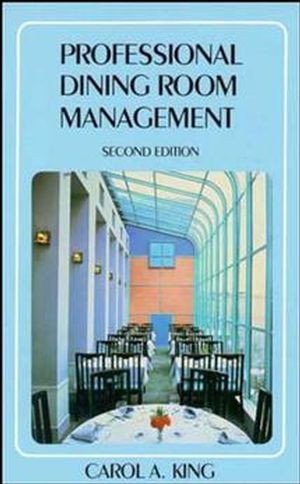 Professional Dining Room Management, 2nd Edition
ISBN: 978-0-471-28934-0 February 1988 224 Pages
Description
The service supervisor's job is a key one in the restaurant business because a large part of the guest's dining experience and satisfaction is derived from the interpersonal contact between guest and staff. If this contact is not satisfactory, all the care and investment in decor, food selection, and preparation are for naught. The service supervisor must see to it that courteous and efficient service is provided at all times. Professional Dining Room Management, Second Edition, discusses the management side of running a restaurant. Written specifically for the dining room supervisor who oversees the service staff of the restaurant, this useful guide outlines the four skills the effective dining room manager needs:
Technical know-how and knowledge of serving food
Ability to direct, train, and motivate the service staff
Ability to be a good customer relations person—to meet the public and merchandise the restaurant while promoting sales
Ability to be a good administrator—to organize the work flow and control costs
The book carefully details types of dining room service, including French, Russian, American, and buffet service. It explains quality service standards, and identifies possible breakdowns of service—poor seating, shortage of ware, poor communication with the kitchen, accidents. A valuable chapter on responsible beverage service provides guidelines for dealing with the problem of intoxicated guests. Service managers will learn all aspects of successful dining room operation: inspecting the dining room, assigning stations, seating guests, controlling breakage and linen costs, supervising the staff, and training and hiring new employees. An example of one restaurant's employee handbook will help supervisors create their own handbooks. Helpful instructions for effectively communicating with guests, serving disabled guests, and handling complaints will benefit the entire service staff. A bibliography listing publications, training materials, and training programs helps make this book an important reference guide.
Types of Dining Room Service.

Dining Room Organization.

Quality Service Standards.

Service Staff Behavior and Appearance Standards.

Beverage Service Standards.

Responsible Beverage Service.

Dining Room Operation.

Merchandising and Sales Promotion.

Meeting the Public.

The Basics of Supervision.

Motivation and Job Performance.

Training.

The Employee Handbook.

Supervising a Unionized Staff.

Controlling Dining Room Labor Cost.

Cashiering and Revenue Control.

Bibliography and Training Materials.

Index.