Professional Discipline in Nursing, Midwifery and Health Visiting, 3rd Edition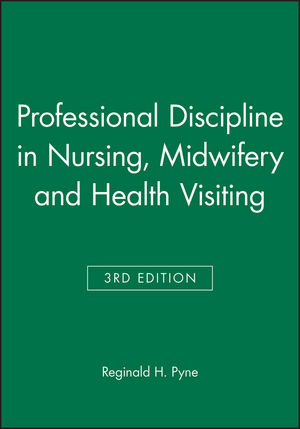 Professional Discipline in Nursing, Midwifery and Health Visiting, 3rd Edition
ISBN: 978-0-632-04086-5
Dec 1997, Wiley-Blackwell
288 pages
Description
In recent years, nurses, midwives and health visitors have taken on increasing responsibilities, concurrenty with the development of new legislation and a Code of Professional Conduct by the UKCC. This book describes in detail the important issues in these professions, accountability, standards of conduct, and the framework of the disciplinary process, with practical case-studies illustrating the disciplinary process in action.
Foreword; Preface; Acknowledgements; Section I Introduction to Professional Regulation:; 1. What is a profession?; 2. Professional Regulation - essential elements and core principles; 3. The Concept of Professional Discipline; Section II The Law Relating to Professional Registration:; 4. Registration and Regulation - its origins and development; 5. The Legal Basis of the Regulation of the Nursing, Midwifery and Health Visiting Professions; 6. The Current Law and its Operation; Section III Professional Registration in Practice:; 7. Advice, Guidance and Standards; 8. Investigating and Judging Alleged Misconduct; 9. Investigating and Judging Alleged Unfitness to Practise due to Illness; 10. The Role of the Nurses Welfare Service; Section IV Views of Professional Registration:; 11. A View of the Profession: victims of change or agents of change?; 12. How Does it Look from the Outside?;Section V Case Studies:; 13. Professional Conduct Committee Case Studies: could this happen where you work?; 14. Professional Accountability Case Studies: aspects of accountability and ethical practice;;; Appendix 1: Decisions and/or discussion of Professional Conduct Committee, Case Studies and Accountability/Ethical Dilemma Studies; Appendix 2: Guidelines for Professional Practice (UKCC) Advisory Document); Appendix 3: Standards for the Administration of Medicines (UKCC Standards Document); Appendix 4: Standards for Records and Record Keeping (UKCC Standards Document); Appendix 5: The Scope of Professional Practice (UKCC Advisory Document); Appendix 6: Complaints about Professional Conduct (UKCC Information Document); Appendix 7: Position Statement on Professional Regulation (International Council of Nurses); Table of cases; Recommended Reading; Index
"I would strongly recommend Mr Pyne's new edition of this classic text as an invaluable part of the professional library of anyone engaged in the nursing professions."

Journal of Clinical Nursing
"Well worth reading and an invaluable guide to professional accountability" New Zealand College of Midwives Journal

'I recommed this text to all nurses, midwives and health vistors wherever they work, it is an invaluable guide to professional accountability.' -- From the Foreword by Dr Betty Kershaw President, Royal College of Nursing
* incorporates 1997 policy objectives from International Council of Nurses * includes numerous case studies for individual study or group discussion * a valuable resource for all involved in professional regulation * an essential handbook for all health care students and practitioners