Professional DotNetNuke 5: Open Source Web Application Framework for ASP.NET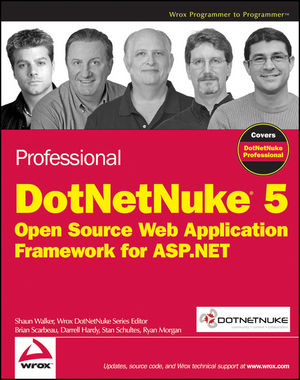 Description
DotNetNuke creator Shaun Walker leads this superlative author team of MVPs while delivering the latest update of a bestseller. They offer complete coverage of the major revisions to DotNetNuke 5, such as more granular administration, widgets, XHTML compliance, improved social networking, workflow, and better content management. They thoroughly cover installing, configuring, administering, and developing modules for DotNetNuke. You?ll learn portal and host administration, configuration in a hosted environment, developing and working with modules, designing a DotNetNuke portal with skins, integrating workflow in DotNetNuke, using DotNetNuke social networking tools, and much more.
Introduction.
1. An Inside Look at the Evolution of DotNetNuke.
2. Installing DotNetNuke.
3. Portal Overview.
4. Portal Administration.
5. Host Administration.
6. Modules.
7. DotNetNuke Archtecture.
8. Core DotNetNuke APIs.
9. Member Role.
10. Client API.
11. Localization.
12. Beginning Module Development.
13. Developing Modules: the Database Layer.
14. Developing Modules: the Business Logic Layer.
15. Developing Modules: the Presentation Layer.
16. Skinning DotNetNuke.
17. Distribution.
18. DotNetNuke Commercial Evolution.
Appendix A. Resources.
Appendix B. System Message Tokes.