Professional Event Coordination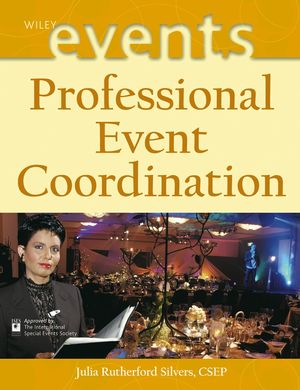 Professional Event Coordination
ISBN: 978-0-471-65655-5
Jan 2004
496 pages
Description
Introducing a clear path toward event excellence

A comprehensive guide to essential competencies for event coordinators, Professional Event Coordination examines the full event planning process and provides the tools and strategies to effectively procure, organize, implement, and monitor all the products, services, and service providers that will bring an event to life.

After establishing each layer of the anatomy of an event, this in-depth guide covers:
Event design
Project management techniques
Site selection and development
Infrastructure services
Entertainment possibilities
Food and beverage options
Safety and security
Inviting attendees
In addition to dozens of checklists, tables, and figures, this complete guidebook is enhanced with On-Site Insights (real-world examples), Technology Tips, and Exercises in Professional Event Coordination (reinforcement exercises that help in preparation for the CSEP certification exam).

A versatile tool that is effective for all types of events-for small functions with ten guests to major festivals with 10,000 attendees - Professional Event Coordination is a valuable book for every professional who works events, including event managers, caterers, event planners, and hotel and food and beverage managers.
Foreword—Edward G. Polivka.
Foreword—Dr. Joe Goldblatt, CSEP.
Preface.
Acknowledgments.
Chapter 1: Anatomy of an Event.
Chapter 2: The Event Element Assessment.
Chapter 3: Developing the Event Site.
Chapter 4: Accommodating the Audience.
Chapter 5: Providing the Event Infrastructure.
Chapter 6: Safe Operations.
Chapter 7: Coordinating the Environment.
Chapter 8: Fundamentals of the Production.
Chapter 9: Staging the Entertainment Experience.
Chapter 10: Food and Beverage Operations.
Chapter 11: Making Event Memories.
Chapter 12: Ancillary Programs.
Chapter 13: Vendors and Volunteers.
Chapter 14: Knowledge Management.
Chapter 15: Strategies for Success.
Appendix 1: Sample Client Interview Form.
Appendix 2: Sample On-Site Change Order Form.
Appendix 3: Event "Survival" Kit.
Appendix 4: Sample Site Inspection Checklist.
Appendix 5: References and Reading List.
Index.
Includes numerous checklist that readers can use to refine their skills as event coordinators.
On-Site Insights include real world examples and applications of concepts
Technology Tips demonstrate the ways in which technology can assist in event coordination
Certified by ISES for use in preparing for the CSEP exam