Professional Food Manager, 4th Edition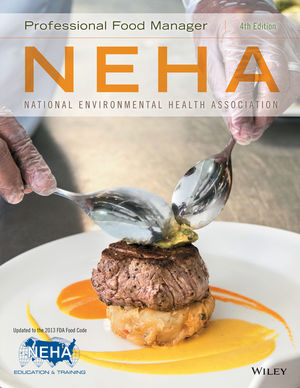 Professional Food Manager, 4th Edition
Product not available for purchase
Description
The National Environmental Health Association's (NEHA) Certified Professional Food Manager is designed to supply culinary and hospitality professionals and students with the knowledge to not only pass the Council of Food Protection/American National Standards (CFP)approved exam, but to ensure the continued successful execution of food safety best practices in the workplace.
Chapter 1 Managing Food Safety and Training
Chapter 2 Biological Contamination
Chapter 3 Other Sources of Contamination
Chapter 4 Handling Food Safely
Chapter 5 From Purchase to Service
Chapter 6 Facilities and Equipment
Chapter 7 Cleaning and Sanitizing
Chapter 8 Pest Control
Chapter 9 Legal Requirements, HACCP and Inspections
Updated to the 2013 FDA Food Code guidelines
A new streamlined text design
Expanded biological contamination prevention best practices
Additional tips on the handling of raw meat, what to expect from your food supplier and much more.
Contains streamlined content, supporting learning styles for today's student.
Aligns with American Culinary Federation Education Foundation (ACF) Required Knowledge and Skills Competencies for Sanitation.
Used by tens of thousands of students, resulting in a proven track record for student success.
Validated content by the Subject Matter Experts at the National Environmental Health Association (NEHA), the leading association of health inspection professionals.