Professional IBM WebSphere 5.0 Application Server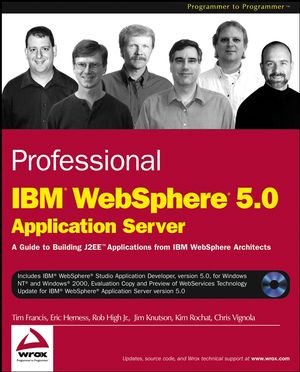 Description
What is this book about?
The WebSphere platform from IBM, with its rich function set, industry leading performance and scalability, as well as configuration flexibility, is one of the leading products of the application server generation.
For the experienced J2EE developer, this book details how to develop, deploy and manage enterprise applications for version 5.0 of IBM's WebSphere Application Server. Over the course of the book a large-scale e-commerce application is developed that demonstrates the use of WebSphere Application Developer Studio for the creation of J2EE applications, as well as functionality of the application server, including Web Services, Application Profiles, and Enterprise Workflows. The book also addresses other enterprise-level issues such as security, deployment topology and server administration.
This book is written by IBM's WebSphere Experts and Architects: Rob High is the Chief Architect for WebSphere foundation; Eric Herness is the Senior Architect for WAS Enterprise; Jim Knutson is the Senior Architect for WAS J2EE; Chris Vignola is the Lead Architect for WAS for zOS; Tim Francis the Senior Architect for WebSphere Studio Application Developer; and Kim Rochat is an Architect for WAS Web Services.
What does this book cover?
In this book, you will learn how to
Develop J2EE applications with WebSphere Studio 5.0
Package and deploy J2EE applications to WebSphere Application Server 5.0
Develop web services for WebSphere 5.0
Optimize EJB's runtime, concurrency and transactions for WebSphere Enterprise 5.0
Choreograph work flows and business processes with WebSphere Studio Integration Edition 5.0
Explore WebSphere 5.0's extended feature set for enterprise development
Secure your enterprise with WebSphere 5.0
Foreword.
Part 1: A WebSphere Perspective.
Chapter 1: Introduction to WebSphere.
Chapter 2: The WebSphere Programming Model.
Chapter 3: WebSphere Development Tools.
Part 2: Building Conforming J2EE and Web Service-Enabled Applications.
Chapter 4: Building Presentation Logic with WebSphere Studio.
Chapter 5: Building the Business Logic with WebSphere Studio.
Chapter 6: J2EE Application Assembly and Deployment.
Chapter 7: EIS Integration and Messaging.
Chapter 8: Enabling Business Logic for Web Services.
Part 3: Building Enterprise-Enabled Applications.
Chapter 9: Advanced EJB Persistence and Optimization.
Chapter 10: Enterprise Process Management.
Chapter 11: Preparing for Enterprise Computing.
Part 4: WebSphere in Production Deployments.
Chapter 12: Deployment Topology.
Chapter 13: Securing your Enterprise.
Chapter 14: WebSphere Administration.
Chapter 15: WebSphere Summary.
Appendix A: Command-Line Utilities.
Index.
Chapter
Page
Details
Date
Print Run
5
187
Extra sentence


The last line on the page "Among the more interesting ones are:" should be removed.

03-Mar-03
1

---

5
201
Change in code


In the code at the top of the page, the "return" statement should return a "null" value:

return null;
06-Mar-03
1

---

6
238
Missing heading


There is a sub-heading missing before the paragraph "Pre-compiling a JSP...". The heading is "Pre-compiling JSPs".

03-Mar-03
1

---

7
290
Change in text


The 2nd last paragraph. The line "The difference between JNDI and Java..." should read "The difference between JDBC and Java....".

10-Feb-03
1

---

15
732
Change in taskdef


The taskdef tag on the page should read:

<taskdef name="wsStartApp" classname ="com.ibm.websphere.ant.tasks.StartApplication" />

24-Feb-03
1

---

15
734
Change in taskdef


The taskdef tag on the page should read:

<taskdef name="wsStopApp" classname ="com.ibm.websphere.ant.tasks.StopApplication" />
24-Feb-03
1

---