Professional IIS 7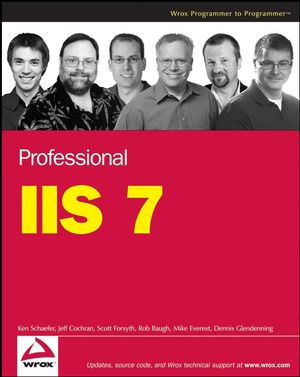 Professional IIS 7
ISBN: 978-1-118-05855-8 April 2011 812 Pages
Description
As the first update to Microsoft's server operating system in nearly five years, Windows Server 2008 boasts the new Internet Information Services 7.0 (IIS 7), which is the largest departure from previous versions of IIS ever. Written by an author team that includes four Microsoft MVPs, this book shows you how to take advantage of these exciting new features of IIS 7. With a clear understanding of IIS 7, you'll learn to deploy, install, monitor, manage, and secure an IIS environment with confidence and ease.

Note: CD-ROM/DVD and other supplementary materials are not included as part of eBook file.
Introduction.
Part I: Introduction and Deployment.
Chapter 1: Background on IIS and New Features in IIS 7.0.
Chapter 2: IIS 7.0 Architecture.
Chapter 3: Planning Your Deployment.
Chapter 4: Installing IIS 7.0.
Part II: Administration.
Chapter 5: Administration Tools.
Chapter 6: Web-Site Administration.
Chapter 7: Web Application Administration.
Chapter 8: Web Application Pool Administration.
Chapter 9: Delegating Remote Administration.
Chapter 10: Configuring Other Services.
Part III: Advanced Administration.
Chapter 11: Core Server.
Chapter 12: Core Server Extensibility.
Chapter 13: Securing the Server.
Chapter 14: Authentication and Authorization.
Chapter 15: SSL and TLS.
Chapter 16: Configuring and Load-Balancing Web Farms.
Chapter 17: Programmatic Configuration and Management.
Part IV: Managing and Operating IIS 7.0.
Chapter 18: IIS and Operations Management.
Chapter 19: Monitoring and Performance Tuning.
Chapter 20: Diagnostics and Troubleshooting.
Appendix A: Module Reference.
Appendix B: IIS Status Codes.
Appendix C: WCF Primer.
Appendix D: Resources.
Index.