Professional InfoPath 2003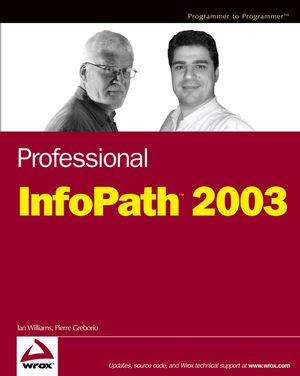 Professional InfoPath 2003
ISBN: 978-0-764-55713-2
Apr 2004
432 pages
Product not available for purchase
Description
What is this book about?
Microsoft InfoPath 2003 helps developers tackle forms-based information-gathering with the full range of XML technologies. This book quickly guides experienced Office and XML developers through InfoPath fundamentals, including XML form templates architecture, form definition file structure, available external data sources, and backend services. From there, you delve into validation and updating forms, both during development and as business needs change. Finally, you examine the InfoPath security model, learning to implement and deploy trusted forms.
The second part of this book is an intensive case study covering metadata processing, exporting XML data to Excel for analysis, and much more.
What does this book cover?
Here are just a few of the things you'll learn in this book:
The development options InfoPath makes available through XML technology
How to combine various form files into a customized template
The architecture of an InfoPath form template and the file types you can use in various applications
Ways to build a form interface using menus or objects on the task pane
Methods to support users at various levels of experience
Different means of validating forms and reporting errors
How to implement digital signatures and other form security measures with InfoPath
Who is this book for?
This book is for experienced corporate developers who have a strong knowledge of XML and related technologies as well as solid experience with Microsoft Office and related applications.
Introduction.
Chapter 1: About InfoPath.
Chapter 2: Form Template Architecture.
Chapter 3: Key Form Elements.
Chapter 4: Meta Data Elements.
Chapter 5: Integrating Secondary Data Sources.
Chapter 6: Adding Business Logic.
Chapter 7: Back-End Services.
Chapter 8: Component Types and Controls.
Chapter 9: Upgrading Forms.
Chapter 10: Security.
Chapter 11: Customizing Forms.
Chapter 12: Introducing the Case Study.
Chapter 13: Input Data Structures.
Chapter 14: Implementing the Template.
Chapter 15: ADO Scripts for Rates.
Chapter 16: ADO Scripts for Posting.
Chapter 17: Output Data Structures.
Appendix A: InfoPath XSF Schema.
Appendix B: InfoPath Form Definition Reference.
Appendix C: InfoPath Object Model Reference.
Appendix D: References.
Glossary.
Index.
Chapter
Page
Details
Date
Print Run
13
187
Correction to location of downloads
Template files referenced for download are in the chapter 14 downloads instead of chapter 13
3-Mar-03
1

---