Professional Java JDK 6 Edition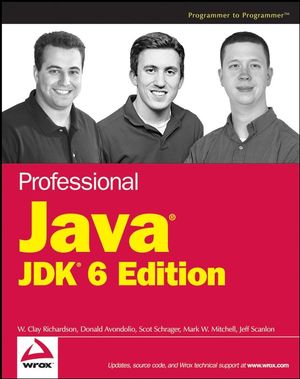 Description
Working as an effective professional Java developer requires you to know Java APIs, tools, and techniques to solve a wide variety of Java problems. Building upon Ivor Horton's Beginning Java 2, this resource shows you how to use the core features of the latest JDK as well as powerful open source tools such as Ant, JUnit, and Hibernate. It will arm you with a well-rounded understanding of the professional Java development landscape.

The expert author team begins by uncovering the sophisticated Java language features, the methodology for developing solutions, and steps for exploiting patterns. They then provide you with a collection of real-world examples that will become an essential part of your developer's toolkit. With this approach, you'll gain the skills to build advanced solutions by utilizing the more complex and nuanced parts of Java JDK 6.

What you will learn from this book
How to use tools to make your work easier and more productive
Methods to develop effective user interfaces with Java Foundation Classes (JFC)
Steps to build web applications using the Model 1 and Model 2 architectures
Ways to interact with the databases and XML using JDBC and JAXB
Techniques for developing enterprise applications using EJB 3.0 and web services
How to package and deploy Java applications
Who this book is for
This book is for Java developers who are looking for an all-purpose resource, are ready for more advanced Java solutions and language features, and need assistance when tackling new Java problems that may be outside their technological experience.
Wrox Professional guides are planned and written by working programmers to meet the real-world needs of programmers, developers, and IT professionals. Focused and relevant, they address the issues technology professionals face every day. They provide examples, practical solutions, and expert education in new technologies, all designed to help programmers do a better job.
Acknowledgments.
Introduction.
PART I: THINKING LIKE A JAVA DEVELOOPER.
Chapter 1. Key Java Language Features and Libraries.
Chapter 2. Tools and techniques for Developing Java Solutions.
Chapter 3. Exploiting Patterns in Java.
PART II: A BRAOD UNDERSTANDING OF JAVA APIs, TOOLS, AND TECHNIQUES.
Chapter 4. Developing Effective User Interfaces with JFC.
Chapter 5. Persisting Your Application Using Files.
Chapter 6. Persisting Your Application Using Databases.
Chapter 7. Developing Web Applications Using the Model 1 Architecture.
Chapter 8. Developing Web Applications Using the Model 2 Architecture.
Chapter 9. Interacting with C / C++ Using Java Native Interface.
Chapter 10. EJB 3 and the Java Persistence API.
Chapter 11. Communicating Between Java Components and Components of Other Platforms.
Chapter 12. Service Oriented Integration.
Chapter 13. Java Security.
Chapter 14. Packaging and Deploying Your Java Applications.
Index.
Chapter
Page
Details
Date
Print Run
400
Error in Figure
fig: 8.3
near request processing arrow
interceptor n request processing

should be:
interceptor response processing
03/16/07

---