Professional LINQ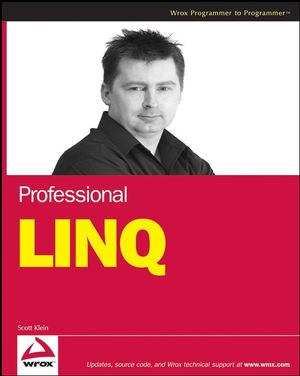 Description
Professional LINQ introduces experienced programmers and database developers to LINQ database queries in their native VB and C# languages. Some of the topics covered include:
LINQ Queries
LINQ and the Standard Query Operators
Programming with XLinq
Querying XML with XLinq
Mixing XML and other data models
DLinq and Queries
LINQ over datasets
Interoperating with ADO.NET
LINQ and ASP.NET
Acknowledgments.
Introduction.
Part I: Introduction to Project LINQ.
Chapter 1: Project LINQ.
Chapter 2: A Look at Visual Studio 2008.
Chapter 3: LINQ Queries.
Chapter 4: LINQ Standard Query Operators.
Part II: LINQ to XML. 
Chapter 5: Understanding LINQ to XML.
Chapter 6: Programming with LINQ to XML.
Chapter 7: LINQ to XML and Other LINQ Data Models.
Chapter 8: Advanced LINQ to XML Programming Topics.
Chapter 9: LINQ to XML and Visual Basic .NET.
Part III: LINQ to SQL. 
Chapter 10: LINQ to SQL Overview.
Chapter 11: LINQ to SQL Queries.
Chapter 12: Advanced Query Concepts.
Chapter 13: More About Entity Classes.
Chapter 14: LINQ to DataSet.
Chapter 15: Advanced LINQ to SQL Topics.
Appendixes. 
Appendix A: Case Study.
Appendix B: LINQ to Entities: The ADO.NET Entity Framework.
Appendix C: LINQ to XSD.
Index.
README FIRST
Code downloads for this title are available here.
Code Downloads
Code downloads for this title are available here.
README FIRST
Code downloads for this title are available here.
Download
Code Downloads
Code downloads for this title are available here.
Download
Code Downloads for Professional LINQ

Download
Chapter
Page
Details
Date
Print Run
6
Error in Code
foreach {var item in dirQuery)

should read:

foreach (var item in dirQuery)
07/14/2008

---

10
Error in Code
where d.DirectoryName == di.Name

should read:

where d.DirectoryName == dir.Name
07/11/2008

---

7
148, 149
Error in Text
The element <yomoma> is incorrect.

It should be <FirstName>
03/12/09

---