Professional Management of Housekeeping Operations, 5th Edition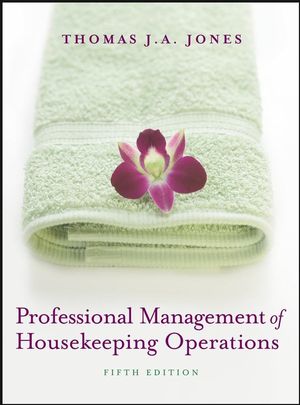 Professional Management of Housekeeping Operations, 5th Edition
ISBN: 978-0-471-76244-7
Oct 2007
496 pages
Description
Now in its fifth edition, Professional Management of Housekeeping Operations is the essential practical introduction to the field, a complete course ranging from key principles of management to budgeting, from staff scheduling to cleaning. With expanded attention to leadership and training, budgeting and cost control, and the increasingly vital responsibility for environmentally safe cleaning, the latest edition of this industry standard also includes new case studies that help readers grasp concepts in a real-world setting.

Instructor's Manual, Test Bank in both Word and Respondus formats, Photographs from the text, and PowerPoint Slides are available for download at www.wiley.com/college
Preface.
PART I: THE HOUSEKEEPING PROFESSION AND THE PRINCIPLES OF MANAGEMENT.
1 The Executive Housekeeper and Scientific Management.
PART II: PLANNING, ORGANIZING, AND STAFFING THE NEW ORGANIZATION.
2 Conceptual Planning.
3 Planning to Schedule Workers: A Major Advantage of Housekeeper Team Staffing.
4 Material Planning: Administration of Equipment and Supplies.
5 Material Planning: Floors, Walls, and Windows.
6 Material Planning: Supplies and Equipment.
7 Material Planning: Bedding, Linens, and Uniforms.
8 Staffing for Housekeeping Operations.
9 Operational Planning.
PART III: DIRECTING AND CONTROLLING ONGOING HOUSEKEEPING OPERATIONS.
10 The Hotel Housekeeping Daily Routine of Department Management.
11 Hotel Housekeeping Subroutines.
PART IV: SPECIAL TOPICS: SWIMMING POOL OPERATIONS AND MANAGEMENT, HOUSEKEEPING IN OTHER VENUES, SAFEGUARDING OF ASSETS, IN-HOUSE LAUNDRIES, AND THE FULL CIRCLE OF MANAGEMENT.
12 Swimming Pool Operations and Management.
13 Housekeeping in Other Venues.
14 The Safeguarding of Assets: Concerns for Safety and Security in Housekeeping Operations.
15 The Laundry: Toward an Understanding of Basic Engineering and Operational Considerations.
16 The Full Circle of Management.
APPENDIX A: Job Descriptions.
APPENDIX B: Hotel Employee Handbook.
APPENDIX C: Bally's Casino Resort Housekeeping Department Rules and Regulations.
APPENDIX D: Ozone in the Laundry.
APPENDIX E: What If (Publication).
APPENDIX F: Excerpts from InterContinental Hotels Group Loss Prevention Manual.
APPENDIX G: The Personal Plan.
APPENDIX H: Microfiber Technology.
APPENDIX I: Proteam Articles.
APPENDIX J: National Trade Publications Articles.
Glossary.
Index.
Expanded focus on environmental trends affecting housekeeping

New Pitfalls in Housekeeping case studies are included to stimulate the analytical problem solving abilities of students and illustrate the "do's" and "don't's" related to housekeeping industry functions

New Ethical Dilemmas case studies pertaining to ethical issues and concerns facing personnel in the housekeeping department have been added

Expanded Conclusions show the interconnected nature of the material presented in the chapter with other chapters

Thought-provoking questions have been added to the Executive Profiles so that students may more closely identify with professionals in the industry and their management practices
Enriched with more than 300 photos and illustrations, this
Fifth Edition
also features:
•     Motivational Tips sidebars–insider advice from leading professionals on getting employees inspired and increasing productivity
•     Green Tips sidebars–practical hints for environment-friendly cleaning methods and products
•     A series of profiles of real executives who have carved out rewarding career paths in housekeeping–including male and female, hotel and hospital managers, newcomers and lifetime professionals
•     Extensive appendices–including industry links, environmental policies, and more
•     Thorough information on materials planning–operating budgets, inventory control, and essential capital equipment
•     Extensive information on maintenance needs for all types of floors, walls, ceilings, windows, bedding, and more, including a detailed discussion of cleaning supplies
•     A complete discussion of planning, organizing, and staffing a winning housekeeping operation, including workloads, scheduling, promoting teamwork, and more